Upper Big Branch: Gary May given 21 months in prison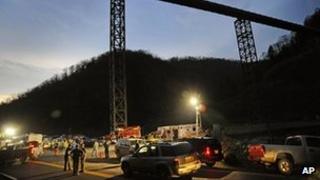 The former superintendent at a mine where 29 men were killed in a blast has been given a 21-month prison term.
Gary May admitted in March to charges he falsified records, disabled a methane gas monitor and tipped off workers ahead of inspections at Upper Big Branch mine in West Virginia.
The April 2010 explosion was one of the worst US mining accidents in 40 years.
Investigators concluded then-owner Massey Energy allowed explosive methane and coal dust to build up in the mine.
Those were ignited by a spark from improperly maintained mining equipment, the investigation concluded.
"With this sentence, [Federal Judge Irene] Berger took the opportunity to send a powerful message to this mine manager and other mine managers who would put profits over safety: if you violate mine laws and put miners at risk you will go to jail," US Attorney Booth Goodwin said in a statement.
In February, Upper Big Branch chief Hughie Elbert Stover was sentenced to three years in prison on charges he lied to investigators. May testified at his trial.
The mine's new owners, Alpha Natural Resources, have agreed to pay $210m (£135m) in damages in connection with the accident - the largest US settlement for a mining disaster.
A plea hearing for a former executive of Massey Energy, the mine's previous corporate owner, is scheduled for next month.
Like May, the executive, David Hughart, has been co-operating with prosecutors.