Mumbai attack group aid man given 14 years in prison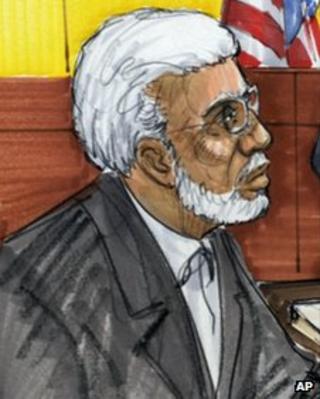 A Chicago businessman who aided an Islamic militant group blamed for the Mumbai attack in 2008 has been sentenced to 14 years in prison.
Tahawwur Rana was convicted in 2011 of providing material support for the Pakistani group, Lashkar-e-Taiba (LeT).
The 52-year-old was also charged with helping plan an aborted plot to behead staff at a Danish newspaper.
But he was cleared of a role in the Mumbai attack, when more than 160 people were killed by gunmen.
Rana's lawyer, Patrick Blegen, argued for a more lenient sentence than the maximum of 30 years, saying the Pakistani-born Canadian did not present a future risk.
"Judge, he is a good man and he got sucked into something, but there's no risk that he's going to do it again, none," Mr Blegen said.
Prosecutor Daniel Collins argued for a tough punishment to deter others.
"There's not much worse than mass murder of this scale," he said of the Danish newspaper plot.
Star witness
Correspondents say the trial gave a rare glimpse into the workings of LeT, which India blames for the Mumbai attacks.
At the centre of the trial was testimony by the government's star witness, David Headley, once Rana's close friend.
US-Pakistani Headley had previously pleaded guilty to laying the groundwork for the Mumbai attacks and helping plot the attack against the Danish paper.
During the trial, prosecutors argued that Rana had allowed Headley to open an office of his Chicago-based immigration services firm in Mumbai, which Headley then used as cover to scout sites for the attacks.
The prosecutors also said that Rana had allowed Headley to pose as a representative of his firm in order to gain access to newspaper offices by feigning interest in purchasing advertising space.
Rana's defence team argued that he had been manipulated and misled by Headley, an old friend from their days in a Pakistani military school.
At the opening of the trial, Headley also testified that Pakistan's Inter-Services Intelligence agency had provided military and moral support to LeT.
Pakistan has denied the allegations.