Mother of boy who brought gun to school arrested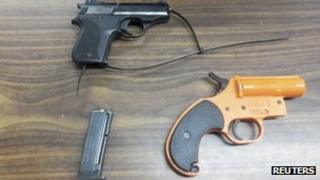 The mother of a seven-year-old New York City boy who brought a gun to school has been arrested on weapons and endangerment charges, police said.
Deborah Farley, 53, put the .22-calibre pistol in her son's school bag but did not say why, police said.
It is not clear if the boy knew it was there when he went to primary school.
The incident comes after 26 people died in a shooting at a Connecticut primary school in December, fuelling a debate over school security and gun safety.
Ms Farley is expected to be arraigned at court in New York on Friday afternoon.
Temporary scare
Authorities say Ms Farley dropped her son off at Wave Preparatory Elementary School in the borough of Queens at about 07:30 local time (12:30 GMT) on Thursday.
She returned soon afterwards and said she needed to take her son out of class for a dental appointment, local media reported.
Ms Farley came back to the school again around 10:00 local time and told staff that her son had a .22-calibre handgun and had taken it out of his school bag and given it to another pupil, reports say.
In addition to the handgun, a magazine with 10 rounds of .22 calibre ammunition, 14 additional rounds and a flare gun were found in the boy's bag, police said.
The gun was not fired and nobody was hurt, but the school was placed on lock-down for nearly an hour. Parents and children said they were shaken by Thursday's incident.
In December, a gunman killed 20 children and six school staff at Sandy Hook Elementary School in Newtown, Connecticut.
The massacre has provoked a national debate on school safety and the prevalence of gun violence.
On Wednesday, President Barack Obama unveiled proposals to tighten US gun laws, including a ban on assault weapons and high-capacity magazines, and wider background checks on gun buyers.
Mr Obama also proposed giving school districts funds to hire uniformed police officers to guard schools.