Notre Dame star Manti Te'o admits girlfriend hoax lie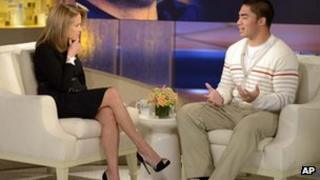 Notre Dame football star Manti Te'o has admitted he briefly lied about his deceased online girlfriend even after learning she did not in fact exist.
In an interview with broadcaster ABC, Te'o maintained he had no part in crafting the deception.
The hoax was revealed after a sports website reported it could find no record Lennay Kekua had ever existed.
Te'o, 21, said he learned it was a hoax after receiving a call from the voice he believed belonged to the dead Kekua.
"Now I get a phone call on December 6, saying that she's alive and then I'm going be put on national TV two days later," the University of Notre Dame linebacker told Katie Couric in a portion of the interview broadcast on Wednesday.
"You know, what would you do?"
Kekua had supposedly died of leukaemia in September, within hours of Te'o's real-life grandmother, who passed away after a long illness.
Earlier, the college football star said her death had inspired him to lead Notre Dame on its march to the national championship game. His story was widely featured in the US sports media.
"Katie, put yourself in my situation," Te'o, who is of Samoan ancestry, said in the Wednesday interview, after admitting the December deception.
"My whole world told me that she died on September 12. Everybody knew that. This girl, who I committed myself to, died on September 12."
An Associated Press review of news coverage found that the football star talked about Kekua in an online interview on 8 December and again in a newspaper interview published 10 December.
Notre Dame officials have said they also learned of the hoax in December, but they stayed quiet until after it was revealed in the news media.
Also on Wednesday, Te'o's father defended his son against accusations that the college football star was part of the hoax and had exploited the tale for personal gain.
"People can speculate about what they think he is," Brian Te'o said. "I've known him 21 years of his life. And he's not a liar. He's a kid."
On Tuesday, the woman whose photo was used as the "face" of the Twitter account of Te'o's supposed girlfriend said an acquaintance of the footballer was behind the hoax.
Diane O'Meara told NBC's Today show that the individual had used pictures of her without her knowledge in creating Kekua.
A day after the hoax was revealed on sports news website deadspin.com, Manti Te'o said he had been the victim of a "sick joke".
"This is incredibly embarrassing to talk about, but over an extended period of time, I developed an emotional relationship with a woman I met online," he said in a statement.
"We maintained what I thought to be an authentic relationship by communicating frequently online and on the phone, and I grew to care deeply about her."
Notre Dame lost the national college football championship game to the University of Alabama on 7 January; Te'o now hopes to turn professional in the National Football League.