Alabama hostage standoff for five-year-old continues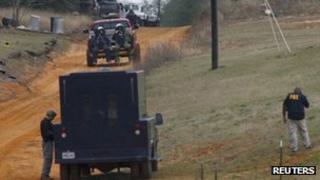 A standoff between Alabama police and a man who has taken a five-year-old boy hostage has entered a third day.
The gunman, named by neighbours as Jimmy Lee Dykes, 65, boarded a school bus and allegedly killed the driver before taking the boy.
The suspect, a retired lorry driver, is not believed to be related to the five-year-old.
The incident began in Midland City on Tuesday afternoon when the bus driver refused to hand over the child.
Mr Dykes is holding the youngster at his remote home inside an underground bunker, police said.
Negotiators have been talking to the man through a 4in-wide (10cm) ventilation pipe.
"He will have to give up sooner or later because [authorities] are not leaving," Police Chief James Arrington said "It's pretty small, but he's been known to stay in there eight days."
Suspect 'menaced neighbours'
According to witnesses, the attack began when the school bus stopped to let off two children.
Mr Dykes grabbed the door so it could not close and came on board, demanding two boys aged six and eight.
When the 66-year-old driver, Charles Albert Poland, blocked the bus aisle with his arm, Mr Dykes fired four shots, killing him.
Church Pastor Michael Senn, who comforted the children after the incident, was quoted by AP news agency as saying: "As far as we know there is no relation at all. He just wanted a child for a hostage situation."
County Coroner Woodrow Hilboldt said Mr Dykes was believed to be hiding in something similar to a tornado bunker.
The bunker had food and electricity, and the boy was watching television, said law enforcement officials.
The authorities lowered medicine at one point into the bunker for the boy, with the kidnapper's agreement.
It was not clear if the suspect had any demands.
Nearby houses were evacuated when police discovered what they believed to be a bomb on his property.
According to court records, Mr Dykes was due to appear in court on Wednesday for menacing neighbours as they drove past his house some weeks ago.
Neighbour Patricia Smith said her children, who were on the bus, had run into Mr Dykes several months ago.
"My bulldogs got loose and went over there," she said. "The children went to get them. He threatened to shoot them if they came back."