White House leads tribute to former NYC mayor Ed Koch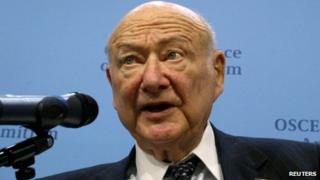 The White House has led tributes to former New York City Mayor Ed Koch, who has died at age 88.
In a statement, President Barack Obama called Koch an "extraordinary mayor, irrepressible character and quintessential New Yorker".
The brash, outspoken Koch had been in and out of hospital in recent months.
He became mayor in 1978 when New York was graffiti-marred and crime-ridden, and was credited with saving the city from near-bankruptcy.
He served three terms and afterwards remained active and popular, practising law, writing, and hosting a chat show.
"In public office and beyond, his energy, force of personality and commitment to causes ranging from civic issues to the security of the state of Israel always informed and enlivened the public discourse," Mr Obama said.
Stroke
New York Mayor Michael Bloomberg said the city had "lost an irrepressible icon, our most charismatic cheerleader". He announced that flags at all city buildings would fly at half mast.
"Through his tough, determined leadership and responsible fiscal stewardship, Ed helped lift the city out of its darkest days and set it on course for an incredible comeback," Mr Bloomberg said.
And New York Governor Andrew Cuomo, whose father ran against Koch in a gubernatorial primary, said: "New York City would not be the place it is today without Ed Koch's leadership over three terms at City Hall."
"Mr Mayor was never one to shy away from taking a stand that he believed was right, no matter what the polls said or what was politically correct."
Koch's funeral will be held at Temple Emanu-El, a Jewish synagogue, in Manhattan on Monday.
Even in his 80s, Ed Koch exercised regularly, but he had been battling various health problems, including heart disease, for a long time.
He suffered a minor stroke during his last term as New York mayor, and had a pacemaker inserted in 1991.
In 2009, he spent five weeks in hospital where he underwent quadruple bypass surgery and had a gall-bladder operation.
He was treated for anaemia in September and a respiratory infection in December, and earlier this month suffered from fluid build-up in his lungs.
Readmitted to hospital at the start of the week with shortness of breath, he was moved to intensive care on Thursday for closer monitoring of fluid in his lungs and legs.
He died early on Friday at New York-Presbyterian Hospital, his spokesman George Arzt said.
'Never a phony'
Ed Koch was born to Polish immigrant parents in the Bronx in 1924. After serving as a combat infantryman in Europe, he practised law before turning to a political career.
He was a US congressman before becoming mayor of New York city in 1978, a post he retained for three terms, until 1989.
His tough fiscal policies are credited with helping the city climb out of near-financial ruin to levels of enviable prosperity.
But his critics say they also led to an increase in homelessness and racial tensions. Levels of HIV and Aids also soared during that time.
Corruption scandals blighted his third term, and in 1989, Koch lost the Democratic nomination for what would have been a record fourth term as mayor.
His opponent in that race, David Dinkins, who became the city's first black mayor, told a local Fox broadcaster on Friday that Koch was "a feisty guy who would tell you what he thinks".
"Ed was a guy to whom I could turn if I wanted a straight answer," he said.
But there was no thought of retiring when Koch left office. He worked as a lawyer, made regular appearances on television and wrote a number of books.
Known for his outspoken and combative style, he once quipped: "I'm the sort of person who will never get ulcers. Why? Because I say exactly what I think. I'm the sort of person who might give other people ulcers."
The Rev Al Sharpton on Friday said that although they had disagreed on many things, Koch was "never a phony or a hypocrite. He said what he meant. He meant what he said. He fought for what he believed."