Sarai Sierra death: FBI investigates Turkey killing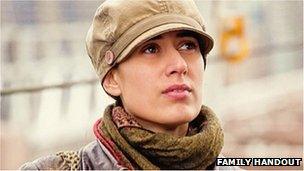 The FBI is helping Turkish authorities investigate how an American holidaymaker died in Istanbul, a congressman has said.
Representative Michael Grimm said the law enforcement agency had been invited by Turkish authorities to assist with the case of Sarai Sierra, 33.
The New Yorker vanished on 21 January, and her body was found 12 days later near Istanbul's ancient city walls.
Turkish police have said the mother-of-two died from a blow to the head.
Speaking at a press briefing on Monday alongside Sierra's parents, Mr Grimm said: "Our number one priority right now is bringing Sarai home."
Sierra's husband, Steven, went to Istanbul last week to help with the search.
He is planning to accompany her body back to the US. But the family is still raising money to fund the transport.
Sierra went to Turkey alone after her childhood friend, Magalena Rodriguez, decided not to join her.
"I wasn't working at the time and I didn't have the money to go," she said at the news conference, apparently fighting back tears as she spoke.
Sierra's father, Dennis Jimenez, said he had not wanted her to travel alone, but his daughter shared her photos online and would check in frequently. He said she was fascinated by the history and architecture of the city.
"You could tell that she was happy," Mr Jimenez said.
Betzaid Jimenez, Sierra's mother, said the woman's two sons, aged nine and 11, have not yet been told what happened, and the family was waiting for their father to return first.
On Monday, prosecutors were given permission to take blood and DNA samples from 21 people who have been questioned about Sierra's death, Turkish state new agency Anadolu reported.
A post-mortem examination has been carried out on Sierra's body and DNA samples have been sent to a crime laboratory, it added.
Police were still using sniffer dogs to search the area where Sierra's body was found.
A Turkish newspaper, Milliyet, reported that samples from Sierra's fingers and hair, as well as from a blanket discovered near her body, would undergo forensic tests.
Some nail scrapings might suggest she was trying to fight off at least one attacker, the newspaper added.