Chris Kyle murder: Suspect received psychiatric care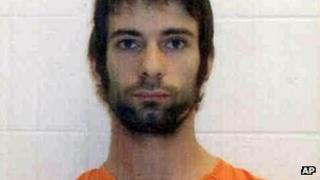 An Iraq war veteran charged with murdering an ex-US Navy Seal sniper received psychiatric care twice in recent months, police records show.
Eddie Ray Routh, 25, also told his sister he had "traded his soul for a new truck", according to an arrest warrant obtained by WFAA-TV news.
He is accused of shooting Chris Kyle, author of 2012 bestseller American Sniper, and another man at a gun range.
Mr Routh told police he suffered from post-traumatic stress disorder (PTSD).
Kyle, 38, is said to have been helping him deal with the condition.
'Death threats'
Kyle and Chad Littlefield, the second victim, were found with multiple gun wounds and several guns at the scene.
After the shooting at Rough Creek Lodge range on Saturday afternoon, Mr Routh allegedly fled in a pick-up truck belonging to one of the victims.
According to police reports in Lancaster, Texas, where Mr Routh lives, the veteran was admitted to hospital for psychiatric treatment on 2 September after threatening to kill his family and himself.
Authorities found the member of the Marine Corps Reserve without a shirt or shoes, and smelling of alcohol.
"Eddie stated he was hurting and that his family does not understand what he has been through," the report says.
Records show Mr Routh was re-admitted to the same hospital in January after a woman told the police she was afraid the young man might harm himself.
On Sunday night, authorities said they had to use a stun gun to subdue Mr Routh in custody after he became belligerent and refused to hand back his food tray.
Kyle, a former cowboy, is regarded as the most prolific sniper the US has ever seen.
Official Pentagon figures say he killed 160 people, but he estimated the total was 255.