Terrorists should lose Canadian papers, minister says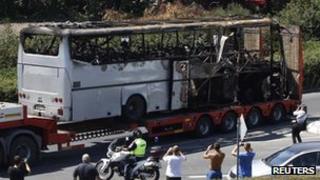 Canada should strip its dual citizens of their passports if they commit an act of terror abroad, the country's immigration minister has said.
Jason Kenney's proposed law change comes a day after a Canadian with dual Lebanese citizenship was linked to a bus bombing last summer in Bulgaria.
Bulgaria blamed the attack, which killed five Israeli tourists and the bus driver, on Hezbollah.
The suspect came to Canada with his family aged eight, Mr Kenney said.
The suspect obtained Canadian citizenship some years later, but returned to Lebanon when he was 12 years old and has remained there ever since.
'Acts of war'
Dual citizens have clearly renounced loyalty to Canada if they have links to terrorism, said the Conservative minister.
"Canadian citizenship is predicated on loyalty to this country, and I cannot think of a more obvious act of renouncing one's sense of loyalty than going and committing acts of terror," Mr Kenney told reporters.
Mr Kenney pointed to a private member's bill by Conservative MP Devinder Shory that would amend the current Citizenship Act in two ways.
It would expedite citizenship for permanent residents serving in the Canadian Forces, and would strip citizenship from those who engage in "acts of war" against Canada, CBC News reported.
A member of the opposition has described Mr Kenney's proposal as a "knee-jerk response".
Other countries, such as the US and Australia, already have similar policies.
The July 2012 bombing at Burgas airport on the Black Sea coast was the deadliest attack on Israelis abroad since 2004.