Samuel Mullet and Amish beard-cutters jailed in Ohio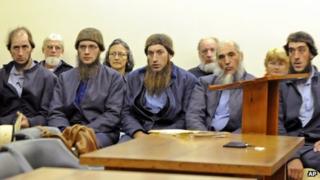 An Ohio Amish sect leader has been sentenced to 15 years in prison for directing hair- and beard-cutting attacks on Amish people in 2011.
Fifteen of Samuel Mullet's followers were also given prison sentences ranging from one to seven years.
They were convicted of hate crime after prosecutors argued the five attacks were motivated by religious disputes.
Amish people believe the Bible instructs women not to cut their hair, and men to grow beards once they marry.
His ankles in chains, Mullet, 67, told Friday's hearing that he had always tried to help people.
'Terrorised'
"That's been my goal all my life," he told the hushed courtroom.
But Judge Dan Aaron Polster was not convinced.
"The victims were terrorised and traumatised," he told the court. He said Mullet's victims had their constitutional rights to religious freedom violated.
The judge said the defendants had two weeks to file appeals against their sentences or convictions. Defence lawyers suggested they would take that action.
Meanwhile other defendants, some in tears, said they should take some of the blame - and punishment - from Mullet and their spouses.
Freeman Burkholder, 32, apologised to the judge, saying, "I won't do it again."
Anna Miller, 33, who is a mother of six also said: "I'm sorry, it won't happen again." She and many of the other women received one-year sentences.
Mullet has been accused of running a cult and exercising absolute control over the breakaway Amish settlement he founded two decades ago.
He allegedly punished male members by making them sleep in chicken coops. Mullet also practised sexual "counselling" for married women in his community, according to court documents.
During the trial, victims of the attacks testified they were restrained and had their hair forcibly cut using scissors, clippers, shears and battery-operated razors.
Defence lawyers argued the attacks were a result of personal disputes in the Amish community in Bergholz, Ohio.
They appealed for leniency, citing the hardship the small community had faced without some of the men during the winter.
Prosecutors recommended lighter sentences for Mullet's followers and suggested that family members serve at different times in order to care for the defendants' 50 children.
But Prosecutor Bridget Brennan urged the judge to punish Mullet adequately.
"He is a danger to this community. He is capable of controlling 15 defendants," she said.
Mullet was not accused of participating in the hair-cutting attacks, but prosecutors said he encouraged the other defendants - six women and nine men, including four of his sons - to carry them out.
"There is no doubt that Mullet wanted, agreed with and encouraged all of these attacks," prosecutors said in a court filing.