Christopher Dorner: LAPD may reopen sacking probe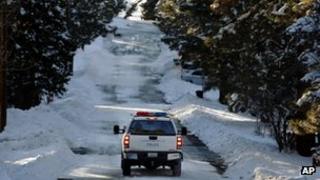 Los Angeles police have said they will re-examine the sacking of fugitive former officer Christopher Dorner, suspected of killing three people.
Mr Dorner, 33, has been on the run for the past week, following the attacks in southern California.
In an online manifesto, he swore to take revenge on police officers he blamed for his firing in 2008, which he claimed was racially motivated.
Police Chief Charlie Beck appealed for Mr Dorner to hand himself in.
He said re-opening the investigation was not a response to his demands.
"I do this not to appease a murderer. I do it to reassure the public that their police department is transparent and fair in all the things we do," Mr Beck said in a statement.
Mr Dorner is suspected of killing three people, including the daughter of a retired police captain who represented him in a disciplinary procedure.
'Fresh tracks'
Mr Beck said police were now protecting 50 families, many belonging to former LAPD colleagues, against whom Christopher Dorner has vowed revenge for ruining his career.
In an online manifesto, Mr Dorner suggested that some were motivated by racism, writing: "Unfortunately, this is a necessary evil that I do not enjoy but must partake and complete for substantial change to occur within the LAPD and reclaim my name."
Police are combing an area near Big Bear Lake, 80 miles (128 km) east of Los Angeles, after finding the suspect's burned-out truck near a ski area.
Fire officials in Big Bear Lake told the Los Angeles Times that fresh tracks spotted in the snow were believed to be Mr Dorner's but that it was possible the truck was a diversion.
A former US Navy reservist, Mr Dorner was with the police department between 2005-08, but lost his job for making false statements.
He is suspected of:
Shooting dead Monica Quan, 28 - the daughter of a former LAPD captain - and her fiance Keith Lawrence, 27, on Sunday night in their car at their home in Irvine, California
Shooting at two police officers, grazing one, on Thursday morning in Corona, east of Los Angeles
Ambushing two policemen in their patrol car in the town of Riverside a few hours later, killing one and wounding the other
According to court documents, Mr Dorner was fired in 2008 after making a complaint against his field training officer, saying she had kicked a suspect, a schizophrenic man with severe dementia, during an arrest.
Irvine
Sunday 3 Feb: Monica Quan (pictured), 28, and Keith Lawrence, 27, were found shot dead in Irvine. Ms Quan, was the daughter of a former Los Angeles police captain who had represented Mr Dorner in disciplinary hearings that resulted in his dismissal in 2008.
San Diego
Wednesday 6 Feb: At around 22:30, a man matching the description of Mr Dorner (pictured) tried to steal a 47-foot boat from a San Diego marina, but the engine wouldn't start. An 81-year-old man on the boat was tied up but unhurt.
Corona
Thursday 7 Feb: At 01:30, two LAPD officers assigned to protect a person named in Mr Dorner's "manifesto" chased a vehicle they believed was Mr Dorner's in Corona. One officer was injured during a shootout, and the gunman fled.
Riverside
Thursday 7 Feb: Shortly after the shootout in Corona, a gunman believed to be Mr Dorner ambushed two Riverside police officers who had stopped at a red light. One officer was killed and the other critically injured.
Torrance
Thursday 7 Feb: At 05:15, LAPD officers guarding a target in Torrance identified in Mr Dorner's "manifesto" opened fire on a truck they mistakenly believed to be Mr Dorner's. Two women were wounded. Shortly afterwards, Torrance police shot at a second truck they mistook for Mr Dorner's. Nobody was hurt.
Big Bear Lake
Thursday 7 Feb: Authorities confirmed that a truck found near Bear Mountain ski area at Big Bear Lake belonged to Mr Dorner. Police announced that they were conducting a door-to-door search for Mr Dorner.