Rita Crundwell jailed for $53m theft from Dixon, Illinois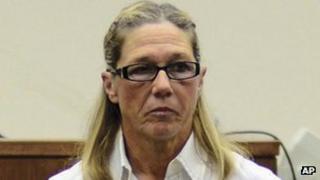 The finance officer of a small Illinois city has been sentenced to almost 20 years in prison for embezzling $53m (£34m) over more than two decades.
Rita Crundwell, who pleaded guilty to fraud in November, apologised to Dixon residents at the hearing.
Crundwell, 60, faked invoices and used the money to fund multi-million dollar properties, holidays, luxury cars and a horse-breeding operation.
Officials are liquidating her assets but expect to recover only $10m.
The city of 16,000 residents is most famous for being the childhood home of President Ronald Reagan. Dixon's annual budget for the past few years has been below $10m.
Judge Philip Reinhard said he was sentencing the former financial manager to 19 years and seven months - nearly the maximum of 20 years - because of the "sheer magnitude" of the fraud.
"You showed a much greater passion for the welfare of your horses than you did for the people of Dixon who you represented,'' he said.
Caught on holiday
Prosecutors say Crundwell began depositing Dixon's money in a secret bank account in January 1991 and continued doing so until her arrest in April 2012. She had worked for the city since she was 17, becoming financial manager in the late 1980s.
With sole control of the city's finances, she concealed the embezzlements with fictitious invoices, including for municipal sewer projects.
Besides luxury homes and vehicles, Crundwell spent millions on her horse-breeding company, which produced 52 world champions in exhibitions run by the American Quarter Horse Association.
At the sentencing hearing, several Dixon officials - including the police chief and a city commissioner - said the theft crippled the working-class city's budget.
Michael Stichter told the court that Crundwell rejected his request to replace rusted trucks, blaming a lack of funds, NBCChicago.com reported.
The scheme unravelled in 2011 when a worker filling in behind Crundwell during an extended holiday discovered the secret account.
The mayor called the FBI, which began monitoring her transactions.
Jim Pedersen, a prosecutor on the case, said Crundwell would have continued stealing had she not been caught.
"There was no evidence she was going to stop,'' Mr Pedersen said after the hearing.
She still faces 60 charges of theft, each with a potential sentence of 30 years.