US fugitive Christopher Dorner died from single gunshot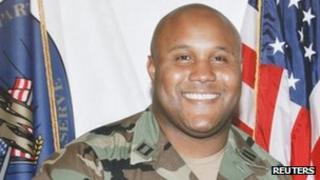 Fugitive US ex-police officer, Christopher Dorner, whose remains were found in a burnt-out cabin after a six-day manhunt, died from a single gunshot wound to the head, authorities say.
Police had launched the manhunt for Dorner after he killed three people, apparently in revenge for being fired from the LA police in 2008.
He was cornered near Big Bear Lake and incendiary tear gas was fired in.
Police could not confirm whether the gunshot was self-inflicted.
After a six-hour post-mortem examination, San Bernardino County coroner Kevin Lacy said: "We are not yet able to speak about the manner of death and tell you whether or not it was the result of a self-inflicted wound or another round.
"While we are still assembling the reports and putting it together, the implication seems to be that the wound that took Christopher Dorner's life was self-inflicted."
Incendiary tear gas
Dorner had holed up in a flat in Big Bear Lake, a ski resort 80 miles (130km) east of Los Angeles, for six days after he killed a couple and a policeman.
San Bernardino County Sheriff John McMahon told reporters that officers had knocked on the door of the condominium during the manhunt.
"Our deputy knocked on that door and did not get an answer, and in hindsight it's probably a good thing that he did not answer based on his actions before and after that event," he said.
When owners arrived to clean the building, Dorner tied them up and fled in their car, killing a sheriff's deputy in a shootout and then barricading himself in the remote cabin.
A Swat team fired incendiary tear gas to try to force Dorner out.
A blaze started and a single gunshot was heard.
Police found a cache of weapons in the cabin, including assault rifles.
Dorner started his killing spree on 3 February when he shot dead the daughter of a former police captain and her fiance.
The woman's father, Randal Quan, had represented Dorner at a police disciplinary board.
Dorner was fired in 2008 from the force on a charge of making false statements, after he lodged a complaint against his field training officer, saying she had kicked a suspect during an arrest.
In an online manifesto, Dorner, who was black, suggested that racism was still rife in the Los Angeles Police Department.
Irvine
Sunday 3 Feb: Monica Quan (pictured), 28, and Keith Lawrence, 27, were found shot dead in Irvine. Ms Quan, was the daughter of a former Los Angeles police captain who had represented Mr Dorner in disciplinary hearings that resulted in his dismissal in 2008.
San Diego
Wednesday 6 Feb: At around 22:30, a man matching the description of Mr Dorner (pictured) tried to steal a 47-foot boat from a San Diego marina, but the engine wouldn't start. An 81-year-old man on the boat was tied up but unhurt.
Corona
Thursday 7 Feb: At 01:30, two LAPD officers assigned to protect a person named in Mr Dorner's "manifesto" chased a vehicle they believed was Mr Dorner's in Corona. One officer was injured during a shootout, and the gunman fled.
Riverside
Thursday 7 Feb: Shortly after the shootout in Corona, a gunman believed to be Mr Dorner ambushed two Riverside police officers who had stopped at a red light. One officer was killed and the other critically injured.
Torrance
Thursday 7 Feb: At 05:15, LAPD officers guarding a target in Torrance identified in Mr Dorner's "manifesto" opened fire on a truck they mistakenly believed to be Mr Dorner's. Two women were wounded. Shortly afterwards, Torrance police shot at a second truck they mistook for Mr Dorner's. Nobody was hurt.
Shooting at Big Bear Lake
Wednesday 13 Feb: The charred remains of a body, believed to be that of Christopher Dorner, are found in a burnt-out cabin at Big Bear Lake ski resort, after a shoot-out. One officer was killed and another injured. The search moved to the area after a truck belonging to the suspect was found there.