Sequester: When budget cuts are a matter of life and death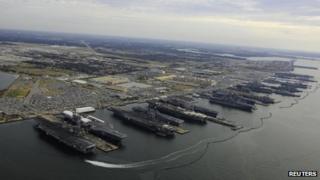 Mark Stets warns the cuts around the corner are a matter of life and death.
Residents of Virginia Beach, Virginia, are used to a sense of mortality - it has the highest concentration of serving and retired military in the US.
During a packed public meeting at a hotel ballroom in this coastal resort, many warned of the damage from the automatic cuts to local businesses, to their families and to America's prestige.
But retired naval Chief Petty Officer Stets says much more is at stake. He speaks with quiet assurance, but you can tell his voice is one degree away from cracking. No wonder.
He starts his question to the lawmakers on the platform with the simple statement that his son, a soldier, was killed in Pakistan in 2010.
"My worry is there is another family that is going to suffer the loss that I did because their son didn't have the proper training, the proper armament, the proper munitions to do his job," he later tells me.
"Sequestration is going to take 10% off our military budget and, as I look at it, out of a group of 10 soldiers, one doesn't have a helmet, one doesn't have body armour, one doesn't have a radio. Each man in that platoon doesn't have something to do his job."
'Devastating cuts'
I have no idea if he is right or wrong. The Pentagon has warned automatic cuts of 10% would be "devastating", without spelling out what would happen. But there are already plans for defence workers to take one day off a week without pay.
Part of the problem with the automatic cuts, known by the ugly term "the sequester" is that no-one can say exactly what they would mean in practice, even though they are only days away.
The White House has set out the threatened impact on Virginia, as well as the other 49 states, ahead of President Barack Obama's visit to a Virginia shipyard.
Mr Obama is out campaigning against the cuts, warning that Congress must avoid wounding the recovery.
We are talking here about the can that was kicked down the road at New Year, when Congress did a deal to avoid automatic tax increases.
But they put off automatic spending cuts for two months. That deadline is almost up. The whole idea was meant to concentrate minds.
'Hang that name'
Here is the theory: Democrats would hate the savaging of social programmes; Republicans would loathe the harsh reductions of military spending. So they would be forced to come together and find more sensible ways to reduce public spending.
Cunning, eh? Only it has not worked. That is partly because some Republicans think bad cuts are better than no cuts at all.
There is a sense of complacency on Capitol Hill that is totally lacking in Virginia Beach.
Most people in Washington think Friday's deadline will come and go, but a deal will be done in a week or two.
CPO Stets says that is unacceptable.
"To me the next soldier that dies, if sequestration goes into effect, lies on every member of Congress - and the president."
"There is no way they'll get past me. I will hang that name on them."