Ohio school gunman TJ Lane pleads guilty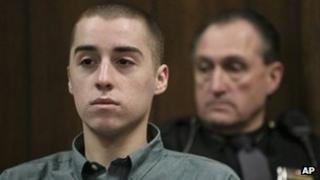 A teenager has pleaded guilty to murdering three other students and wounding two at a high school in the US state of Ohio.
Under the plea deal, TJ Lane, 18, will not face the death penalty.
Last year Lane opened fire with a handgun in the cafeteria of Chardon High School, near Cleveland.
Testing revealed evidence he suffered from hallucinations and psychosis. Investigators say he admitted to the attack but did not know why he did it.
On Tuesday Lane withdrew a plea of not guilty by reason of insanity and pleaded guilty to three charges of aggravated murder and two counts of attempted aggravated murder.
"It was TJ's decision and TJ's alone," defence lawyer Ian Friedman told the Cleveland Plain Dealer about the plea.
Lane had been waiting at Chardon for a bus to another school on 27 February 2012 when he fired 10 shots at students in the cafeteria area.
His sentencing is set for 19 March.