Ex-Harper aide Tom Flanagan under fire for child porn comments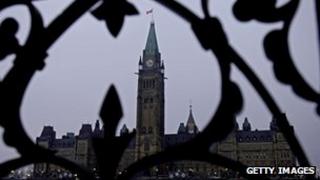 A former senior adviser to Canadian Prime Minister Stephen Harper has come under fire for expressing doubts about jailing viewers of child pornography.
Tom Flanagan apologised in a statement, saying he "absolutely condemn[ed] the sexual abuse of children".
The prime minister's office has spoken out against the comments and several groups have cut ties with Mr Flanagan.
A key figure in modern Canadian conservative politics, Mr Flanagan was a senior aide to Mr Harper until 2004.
Mr Flanagan made the comments on Wednesday at a university forum in Alberta. Recorded and posted on YouTube, the comments have drawn wide condemnation.
"I certainly have no sympathy for child molesters, but I do have some grave doubts about putting people in jail because of their taste in pictures," Mr Flanagan told the class.
A spokesman for Mr Harper said on Twitter the comments were "repugnant, ignorant and appalling".
Following the furore he was dropped from a political panel on the CBC television show Power and Politics. The Wildrose Party, which Mr Flanagan served as campaign manager in 2011, said he would have "no role - formal or informal" with the party in the future.
The University of Calgary, where Mr Flanagan held a teaching position, said in a statement his comments "absolutely do not represent" the university.
"Child pornography is not a victimless crime," university president Elizabeth Cannon said, adding Mr Flanagan was already set to retire from his post in June.
In a statement on Thursday, Mr Flanagan said his "words were badly chosen".
"In the resulting uproar I was not able to express my abhorrence of child pornography and the sexual abuse of children," he said.
Mr Flanagan had previously come under fire for suggesting Wikileaks founder Julian Assange should be assassinated, a comment he later said he regretted.