Keystone XL pipeline report 'raises no concern'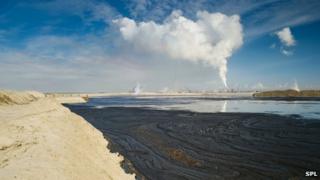 A US government report on controversial plans to build an oil pipeline from Canada to Texas says the project raises no major environmental concerns.
Other options than the Keystone XL pipeline could be worse for climate change, the state department said.
However, the 2,000-page report did not go as far as recommending that the project proceed.
This $7bn (£4.5bn) pipeline is meant to bring oil from the tar sands of Alberta to the refineries of Texas.
It is supported by industry but opposed by environmentalists, who have staged protests outside the White House.
State department approval is needed because the pipeline crosses a US border.
The latest report said damage to the environment by the 1,700-mile (2,735km) pipeline would probably be limited, if certain safety measures were used.
The White House stalled the pipeline project in 2011 amid concerns it would damage the environment along the route.
Public comments
The report says Canadian tar sands are likely to be developed, regardless of whether the US approves the pipeline.
It says Keystone XL is "unlikely to have a substantial impact" on oil production in the Canadian province of Alberta.
Correspondents say this conclusion could allay fears the plan would increase greenhouse gas emissions.
But the environmental review stopped short of recommending whether or not the project should be approved.
The proposed pipeline, which would carry 800,000 barrels of oil each day from Alberta to Texas, would have passed through a major aquifer in the Sandhills region of Nebraska.
But in May, TransCanada, the Canadian company trying to build the pipeline, proposed a new route.
The release of Friday's report will be followed by a 45-day period for public comment. A final decision on the project is expected later this year.
Environmental groups and some Democrats have warned against the risk of a spill, while industry groups and many Republicans said the project would create jobs and bring petrol prices down.