NYC drone sighting: FBI investigates pilot's report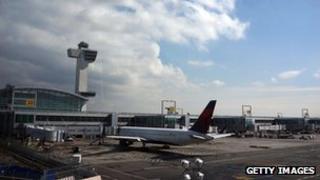 The FBI is investigating a pilot's report of an unmanned drone in the skies near a major New York airport.
A pilot with Alitalia told air traffic controllers at John F Kennedy airport he saw a drone about three miles (4.8km) from a runway on Monday.
The pilot estimated the drone was flying about 1,750ft (533m) high and came within 200ft of his aeroplane.
The US Federal Aviation Administration (FAA) said the pilot did not have to change course and landed safely.
"We saw a drone, a drone aircraft," the pilot can be heard saying in a recording of his conversation with air traffic controllers captured by LiveATC.net.
In later radio communication with other pilots, air traffic controllers described the aircraft as small and black, about 3.3ft (1m) wide, with four propellers.
"The FBI is asking anyone with information about the unmanned aircraft or the operator to contact us," said FBI Special Agent in Charge John Giacalone.
"Our paramount concern is the safety of aircraft passengers and crew."
Planes matching the pilot's description are allowed to be flown by hobbyists, but under FAA rules they may not fly at altitudes higher than 400ft.