Eric Holder urges Senate action on guns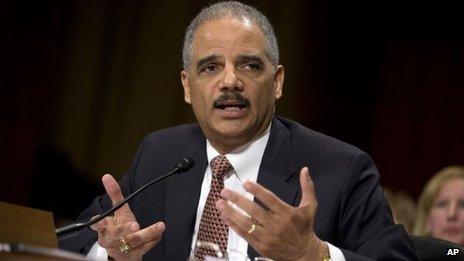 US Attorney General Eric Holder has urged senators to require background checks on all gun buyers in the US.
In testimony at the Senate judiciary committee, Mr Holder said he supported tougher penalties for those who illegally buy guns for others.
Congress is weighing new gun control measures after a series of massacres.
Also on Wednesday, former Congresswoman Gabrielle Giffords called for tougher gun control outside the store where she was shot in 2011.
Ms Giffords spoke a mere 15 words during the news conference in Tucson, Arizona, including: "fight, fight, fight."
Ms Giffords, a Democrat, was seriously injured when she and 12 others were shot during a constituent meeting in the parking lot of a grocery store.
The gunman killed six in the attack. The former congresswoman retired a year later to focus on her recovery.
American for Responsible Solutions, a gun control advocacy group created by Ms Giffords and her husband Mark Kelly, said it had spent a six-figure sum to run television ads in two states with strong gun traditions, Iowa and Arizona.
The group and other gun control supporters hope to counter the powerful influence of gun rights groups such as the National Rifle Association.
Many senators and congressmen staunchly oppose new gun control measures, though analysts say the background check expansion could win approval.
"We have a problem," Ms Giffords says in the commercial, over images of vigils for recent mass shootings, "where we shop, where we pray, where our children go to school".
"There are solutions we can agree on, even gun owners like us,'' she says, referring to herself and Mr Kelly, a former Naval aviator and astronaut.
The ad targets two Republican senators on the judiciary committee who have strong gun rights records, as well as Arizona Senator John McCain, who has indicated he will probably support expanded background checks.
At present, an estimated 40% of gun purchases in the US are conducted without a background check to ensure the buyer is not barred by federal law from gun ownership. Those include private purchases, purchases at gun shows, and online sales.
Mr Holder, the top law enforcement officer in the US, argued on Wednesday that Congress should take up a range of proposals beyond background checks, including requiring tougher penalties on gun traffickers and banning high-capacity ammunition magazines and assault weapons.
"Particularly since the horrific tragedy in December in Newtown, Connecticut, the urgency of our public safety efforts has really come into sharp focus," he said.
He also urged the Senate to confirm Todd Jones as director of the Bureau of Alcohol, Tobacco, Firearms and Explosives (ATF). The ATF has not had a permanent director in six years, severely hindering its ability to enforce gun laws, analysts say.
On Wednesday, several senators introduced a bill that would prevent those who have pleaded insanity to a crime from passing a background check.
"We're trying to fix a problem that most Americans would just be astonished that existed," Republican Senator Lindsay Graham said.
Senator Marc Begich, a Democrat from Alaska, told reporters the bill was a "piece of the puzzle" on gun violence that had bipartisan support, but called it "only part of the solution".