Senator Rand Paul's drone filibuster delays CIA nomination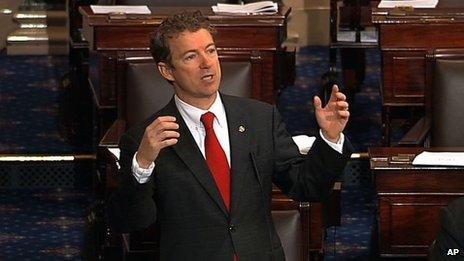 A Republican US senator has delayed the nomination of a new CIA chief over questions about the possible use of drones against Americans.
Senator Rand Paul spoke without a pause for nearly 13 hours, in a tactic known as a filibuster, before yielding the floor before 01:00 (06:00 GMT).
The move has delayed a Senate vote on John Brennan until Thursday.
Mr Brennan currently serves as a top counter-terrorism adviser at the White House, and was nominated in January.
As part of the Obama administration's national security team, he helped oversee the drone programme.
Sen Paul - a critic of the use of drones - demanded a pledge from either President Obama or Attorney General Eric Holder that drones would not be used in the US to kill terror suspects who are US citizens.
Mr Brennan's nomination was approved by a Senate intelligence panel after the White House sent the committee a raft of legal memos on the targeting killing of US citizens in drone strikes.
Sen Paul, the son of former Libertarian Party presidential candidate Ron Paul, began the filibuster shortly before noon (17:00 GMT) on Wednesday.
The Kentucky senator said he was "alarmed" by how difficult it had been to get President Barack Obama's administration to clearly define what qualifies as a legitimate target of a drone strike.
"No president has the right to say he is judge, jury and executioner,'' Sen Paul said, adding he would end the filibuster if the White House clarified no such attack would happen on US soil.
In a letter to Sen Paul on 4 March, Attorney General Eric Holder said the US government "had not carried out drone strikes in the United States and had no intention of doing so".
But the top US lawyer added that it was possible under "extraordinary circumstance", like 9/11 or the attack on Pearl Harbor in 1941, that the president could authorise lethal military force inside US borders.
In a heated exchange with Senator Ted Cruz during a hearing earlier in the day, Mr Holder said it was not appropriate to use lethal force - "drones, be it guns or whatever else" - on a US citizen.
Pushed by Sen Cruz on whether it would be constitutional, not just inappropriate, Mr Holder replied: "Let me be clear: Translate my 'appropriate' to 'no'. I thought I was saying no, all right? No."
With Sen Paul continuing his filibuster. by late afternoon Senate Majority Leader Harry Reid, the chamber's top Democrat, had called for debate to end, but Sen Paul objected.
At that point, Sen Reid said: "Everyone should plan on coming tomorrow. We're through for the night."
A handful of other Republicans, including Senators Mike Lee of Utah, Ted Cruz and Marco Rubio of Florida, took to the floor at different times to give Sen Paul a break.
So did Democratic Senator Ron Wyden, who has expressed strong doubts about the drone programme, but voted for Mr Brennan in the Senate intelligence committee.
The last talking filibuster was by Bernie Sanders, an independent from Vermont, who spoke for more than eight hours against a tax bill in 2010. The longest talking filibuster was recorded by the late Senator Strom Thurmond - just over 24 hours.
Mr Brennan would require a simple majority in the 100-member chamber to be confirmed as the new CIA director, but must first pass a procedural vote needing 60 votes.
Mr Obama's Democrats hold a 55-45 edge in the Senate.