'Cannibal plot' case set to conclude in New York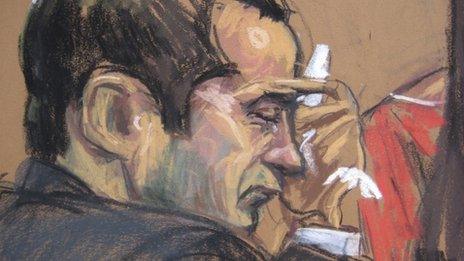 A jury is set to hear closing arguments in the case of a New York City policeman's alleged plot to kill his wife and cannibalise women.
Gilberto Valle, 28, is charged with conspiracy to kidnap and using police databases to make a list of targets.
Defence lawyers argue it was part of a role-playing fantasy.
Ahead of the closing statements, a judge is putting the finishing touches on legal instructions to be read to a jury on how to deliberate in the case.
Kathleen Mangan, Mr Valle's estranged wife, testified against him at the trial.
She said she found emails detailing his plans to slit her throat, and kidnap and kill her friend.
A defence lawyer has argued it was all "fiction" - Mr Valle never carried out crimes, nor purchased torture implements described in emails or met with the men accused of being his co-conspirators.
But prosecutors claim the former policeman took steps to get into closer contact with some of the women he wrote about, including using a police department database to look up their personal information, emailing and texting them and meeting with at least one of them.
The defendant had also allegedly used the internet to look for the best rope for tying people up and chemicals to render someone unconscious, and using search terms including human flesh and white slavery.
The case touches on a common challenge to police: proving intent to commit a crime without infringing on free speech rights.
"Simply thinking bad thoughts is not a crime anywhere,'' David Raskin, a former assistant US attorney who prosecuted terrorism conspiracies, told the Associated Press.
Similar arguments prevailed in the case of a university student who posted violent short stories about a female classmate in an online forum, and later exchanged emails with a man in which they discussed carrying out murder.
A federal court ruled that the emails were not "true threats" and the men were trying to "foster a friendship based on shared sexual fantasies".
But Mr Raskin said he believed police had done the right thing in arresting Mr Valle, on the chance that he was going ahead with the plots to kill women.
"Just think of the story you would write if you found out that people knew about this guy before he did it... half of law enforcement in New York City would get fired because of that story,'' he told AP.