Canada's Metis win 142-year-old land ruling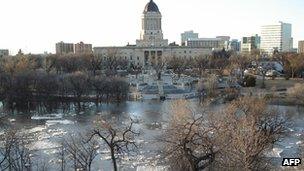 Canada's Supreme Court has ruled the government failed to hand out land grants properly to the Metis indigenous group 142 years ago.
In a 6-2 ruling, the top court said the failure was "not a matter of occasional negligence, but of repeated mistakes and inaction".
The Metis are descendants of indigenous people and European immigrants.
The land was promised in a 1870 law, to settle a rebellion of existing Metis amid a wave of settlement in Manitoba.
After delays, it was eventually distributed via a lottery that largely benefited European settlers.
The Manitoba Metis Federation (MMF), which brought the suit, celebrated the end of three decades of legal challenges over the land-grant provision.
"Such pride at home right now, and tears are being shed. They're crying and they're phoning," MMF President David Chartrand told broadcaster CBC.
During an earlier hearing in front of the Supreme Court, government lawyers argued Manitoba had properly dealt with the grants and that after a more than century the matter had run its course.
Among the approximately 1.4m acres (566,560 ha) of land originally promised to the Metis is the provincial capital, Winnipeg, and the surrounding area, known as the Red River Settlement.
The land was promised to 7,000 children of the Red River Metis, CBC reports. By 2006, the number of Metis throughout Canada was estimated at 400,000.
Metis groups said they were no longer looking to reclaim the land but seeking damages instead.
"I call on the prime minister of Canada to come to the table with his cabinet, or his minister, to sit down with the Metis nation," Mr Chartrand told reporters on Friday.