Canada helicopter prison escapees to appear in court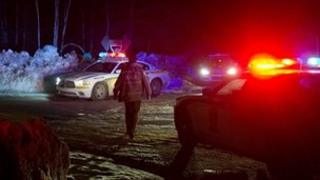 Two Canadian inmates who grabbed a rope attached to a hovering helicopter to flee a prison are due in court, as more details of the daylight escape emerge.
Benjamin Hudon-Barbeau, 36, and Danny Provencal, 33, fled on Sunday afternoon, triggering a huge manhunt.
After a car chase, they exchanged gunfire with police outside a rural cabin before they were recaptured.
In total, four people were arrested about 60km (40 miles) north of the St-Jerome prison, near Montreal.
The helicopter was also found, but police said the pilot had been held hostage and was not a suspect in the case. He was treated for shock in hospital.
The helicopter - which was found some 85km away from the prison - was reportedly hijacked from a tour company.
'Exceptional'
Police spokesman Benoit Richard said authorities tracked the helicopter until it landed, and chased a car to a rural cabin.
"When they got out of their vehicle they started shooting at police officers," Mr Richard said.
Police returned fire, but nobody was hit, CBC News reported.
Mr Richard added the men could face charges including attempted murder, hijacking an aircraft, evasion, possession of restricted weapons and breaking and entering.
The accomplices are known to police, he said.
Hudon-Barbeau and two other men were arrested on Sunday, but Provencal barricaded himself inside the cabin and surrendered peacefully after negotiating into the early hours of Monday morning, police said.
Both inmates were reportedly injured during the prison escape.
Before Hudon-Barbeau was re-arrested, he reportedly called local media outlets saying he was "ready to die".
"I don't want to hurt anyone. I just don't want to stay in prison, and I'm ready to die," a French-language Montreal radio station quoted him as saying.
Hudon-Barbeau was arrested in November on two firearms-related charges as part of an investigation into a double murder in Quebec, the Canadian Press agency cites a provincial police report as saying.
Public broadcaster Radio Canada said he had ties to the Hell's Angels motorcycle gang, which police have said is involved in alleged criminal and drug activities and organised crime.
Police said much of the action took place in the town of Chertsey.
Several hours later the second inmate surrendered peacefully after being tracked down by police.
Christa McGregor from the Correctional Service of Canada said Provencal was serving a sentence of more than seven years for various offences, CNN reports.
Yves Galarneau, who oversees the St-Jerome jail, said he had never seen anything like the dramatic escape in more than three decades on the job.
"As far as I know, it's a first in Quebec,'' he told reporters at the scene. "It's exceptional."
The 480-prisoner St-Jerome facility was the scene of a small riot last month. Police had to use pepper spray to quell inmates.
CTV, a private television station, reports that such facilities in Quebec province are often overwhelmed at weekends when prisoners arrive to serve short sentences, which can lead to some overcrowding.