Obama starts rebuilding bridges in Israel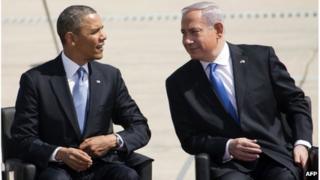 Barack Obama's visit to Israel has got off on the right foot, at any rate.
The band didn't miss a beat. The Israeli military looked sharp in smart white dress uniforms, the women in khaki skirts and white socks. The red carpet reached exactly to the steps of Air Force One.
Obama beamed as he met Israel's new cabinet and assorted religious dignitaries, who lined up in robes and impressive head gear.
But most of all the leaders fell over themselves to be nice. Which is after all the purpose of this trip. To rebuild bridges, re-establish relationships.
President Obama and Prime Minister Benjamin Netanyahu have a notoriously prickly relationship, and an opinion poll of Jewish Israelis indicates that 51% think Obama is neutral about Israel - 10% think he is hostile.
So it was important that standing before the marching band and the dignitaries, fresh off the plane, he said the US was proud to stand with Israel as its "strongest ally and... greatest friend", and that it was in America's national security interest to be close to Israel, in an uncertain time in the Middle East.
He put heavy emphasis on history, saying Jews walked here 3,000 years ago, speaking of the importance of their "rebirth and redemption" after centuries of exile.
'Peace must come'
That is important because some were offended that in his 2009 Cairo speech he talked about the horrors of the Holocaust as a justification for Israeli existence. To some minds, while that may justify a Jewish state, it doesn't explain why it is where it is.
On Wednesday he nodded towards those who don't like where it is, saying: "Peace must come to the Holy Land". He didn't say how or when, and we don't expect him to go into much greater detail in his big speech tomorrow.
For his part, Prime minister Benjamin Netanyahu talked of the generosity of the visit and of the US and recognised that Obama, the leader of "the world's greatest democracy" had gone out of his way to make this trip, to "a somewhat smaller democracy", the first of his second term.
These are scripted words, and they are but a start to improving the relationship.
But they may not go down quite so well in the rest of the region. Already in the West Bank, protesters have thrown shoes at Obama's portrait and written "no" in front of that famous "Hope" poster.
Obama has made it a key objective of this visit to be better-loved by Israel and its politicians. Some critics at home see that as a good in itself.
It is not so clear what the president himself hopes to get out of it. His big speech on Thursday should provide further clues.
Keep tuned.