Obama tries to reassure Palestinians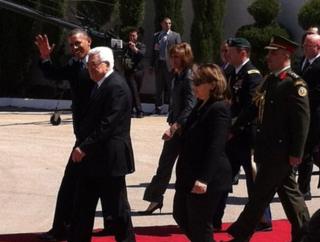 Dust skittered across the red carpet and the waiting press as US President Barack Obama's helicopter landed inside the Palestinian Authority presidential compound.
An officer with a drawn sword marched in front as he walked with President Mahmoud Abbas in front of a row of men. They might be carrying guns, they might be dressed in khaki uniforms with gold-tasselled epaulets but they are an honour guard, not an army, for this is not a state - at least not in the eyes of America and much of the world.
Mr Obama has come to the Middle East with the prime purpose of persuading the Israeli public that he understands and cherishes them, whatever his critics say. (Read this article by Jeffery Goldberg for a sophisticated take on this perception.)
The more he succeeds the harder it will be to persuade Palestinians that he cares about them. Many are already disillusioned that nothing much has changed since the grand vision of Mr Obama's Cairo speech.
As if to make a point, two rockets were fired from Gaza into Israel this morning. Mr Obama is bound to condemn this in the news conference that will follow talks with President Abbas, but Israeli government sources have told the BBC that they will be watching to see if the Palestinian leader follows suit.
It will also be interesting to see if Mr Obama will be stern rather than laying on the love with a trowel as he did in Jerusalem when he met Israeli Prime Minister Benjamin Netanyahu.
Within minutes of arriving there, he had said "our alliance is eternal". How is that for a special relationship?
Mr Obama and Mr Netanyahu have rubbed each other up the wrong way so many times in the past that it is a wonder that the friction has not started any serious fires. But at their joint news conference after a meeting on Wednesday that lasted almost three hours, the warmth radiated was of a different kind, although perhaps summoned by arcane political skills. Their script could almost have been taken from this very weird video released by the Israeli embassy in Washington, featuring both men as adoring bobble heads.
The actual venue for the news conference was no less strange - a cross between a tent and a greenhouse, perhaps like an abandoned aviary - with greenery draped around the white trellis work, miniature orange trees in tubs and two large trees growing up between the TV cameras.
New friendship
In this would-be elegant setting, Mr Netanyahu talked of Mr Obama as "gracious" and glowed with approval of Mr Obama's twin messages.
For the president has come bearing two gifts for the prime minister.
First, his continual stress on Israel's right to exist, not because of the horrors of the Holocaust - which, it could be argued, justifies only the theoretical existence of a Jewish state - but because of its history in the region dating back 3,000 years, which Israelis argue justifies its existence where it is.
The second gift is a wholehearted commitment to Israel's security and its right to defend itself. This comes with the offer of a brand-new 10-year defence deal between the two countries.
President Obama said that the US had an "unprecedented" "solemn obligation", which was "non-negotiable", to guarantee Israel's security. In case someone had missed the point, he said (without either putting on a leather jacket, or chewing gum) that the "tough neighbourhood has got tougher - we've got your back".
This new friendship has some practical consequences.
Quid pro quo
There is a new openness about where the president and prime minister agree and disagree over Iran's apparent quest for nuclear weapons. Both say Iran must not get nuclear weapons - Bibi said he firmly believed that the president would take action to stop it.
They underlined that their intelligence services agreed on how far the Iranians had got with their programme but Mr Netanyahu made it clear his red line was Iran getting enough depleted uranium to be able to build a bomb whereas the president's is Iran actually deciding to build the bomb and getting near to achieving it.
That is not new - but being frank about it is. Mr Obama has reduced tensions by saying that Israel has the right to defend itself as it sees fit. It is not the first time he has said it, but he repeated it again and again, so there was no misunderstanding.
The president hinted international action might be needed in Syria. He said that his government was actively seeking information on reports that chemical weapons had been used, while dismissing suggestions the rebels were to blame. He said if chemical weapons had been used it would be a "game changer" and Syrian President Bashar al-Assad would have made a "serious and tragic" mistake.
Then there is the Palestinian-Israeli conflict. Mr Obama said he would talk more about that in his big speech. He admitted that he might have handled things more deftly in his first term but denied he had ever given up trying.
He said making peace would be a "hard slog" but he wanted to listen to both sides rather than come with any big announcement. As everyone, in theory, wants peace, this is very easy to say. As yet, it does not amount to much. But Mr Obama has gone out of his way to make Israel feel loved, and he may just expect something in return.