Hundreds protest over Chicago school closures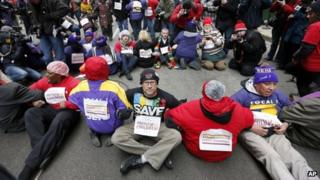 Nearly 130 Chicago school teachers and other supporters have reportedly been detained as they protested against plans to shut 54 city schools.
At a rally before the march, which drew hundreds of supporters, the leader of the Chicago Teachers Union was quoted as labelling the closures "racist".
Mayor Rahm Emanuel said the move was necessary to tackle a $1bn (£660m) school budget shortfall.
City schools and teachers unions have clashed before over contract issues.
The Chicago Teachers Union launched a seven-day strike in September over teacher evaluations and pay.
Gang concerns
On Wednesday, police in the Illinois city briefly detained and ticketed 127 people who had participated in a sit-in, the Chicago Tribune reported.
At a rally before the sit-in and march to the Chicago Public Schools headquarters, demonstrators said the closures were not a done deal, whatever Mayor Emanuel said.
Chicago Teachers Union president Karen Lewis said: "On the first day of school you show up at your real school. Don't let these people take your school."
The closures will primarily affect minority neighbourhoods, and there are concerns that students will have to cross gang-lines to get to a new school.
"Let's not pretend that when you close schools on the South and West Sides the children affected aren't black," said Ms Lewis, according to the Tribune. "Let's not pretend that's not racist."
Chicago Public Schools and Mr Emanuel, a former senior adviser to President Barack Obama, say the cuts will save the district $560m over 10 years in capital costs and an additional $43m per year in operating costs.
About 30,000 students, almost all of them in primary schools, would be affected by the decision, which is due to take effect on the first day of the 2013-14 school year.
The city board of education, whose members were all appointed by Mayor Emanuel, will take a final vote on the proposals in May.