Alaska congressman Don Young 'sorry' for racial slur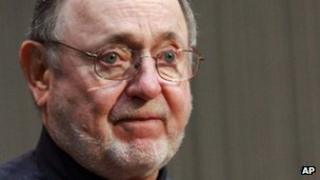 The Republican congressman representing the state of Alaska has apologised for using a derogatory word for Hispanic workers in a radio interview.
Don Young, 79, said he "meant no disrespect" when he referred to Hispanic labourers on the California farm where he grew up as "wetbacks".
The remark drew immediate condemnation.
It comes as Republicans are trying to improve their standing among Hispanic voters, who overwhelmingly backed Democrats in November's poll.
The Republican leader in Congress, John Boehner, said Mr Young's comments were "offensive and beneath the dignity of the office he holds".
"There's no excuse and it warrants an immediate apology," Mr Boehner said.
During a discussion of the US labour market on an Alaska radio station on Thursday, Mr Young said of his father's farm: "We used to have 50-60 wetbacks to pick tomatoes."
"It takes two people to pick the same tomatoes now. It's all done by machine," he added.
In a statement later, the congressman said: "I know that this term is not used in the same way nowadays" even though it was in common use when he was a child.
Mr Young, who has been in Congress since 1973, added that in the interview he had expressed compassion for the workers.