Caroline Kennedy to be US ambassador to Japan - reports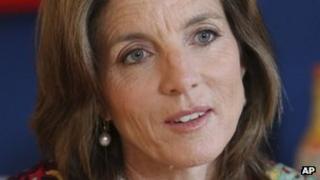 President Barack Obama has asked the daughter of former President John F Kennedy to be America's ambassador to Japan, US media report.
Caroline Kennedy was a key Obama supporter in 2008 and 2012, but has largely shunned political life.
She considered running for a New York senate seat when Hillary Clinton became secretary of state in 2009, but declined citing personal reasons.
Japan is among America's largest trading partners.
A source from the Democratic party told CNN on Monday that Ms Kennedy was being vetted for the post.
Previous US ambassadors to Tokyo have included former Senate majority leader Mike Mansfield, former Vice-President Walter Mondale and former House Speaker Tom Foley.
Ms Kennedy is the only surviving child of the assassinated president and former First Lady Jacqueline Bouvier Kennedy.
She is married to Edwin Schlossberg, who owns a New York-based design firm, and they have three children.
Ms Kennedy is a graduate of Harvard and Columbia universities and has served at many non-profit organisations, such as the John F Kennedy Library and the American Ballet Theatre.
She was also a speaker at the two previous Democratic National Conventions.