High alert amid inquiry into Texas prosecutor's killing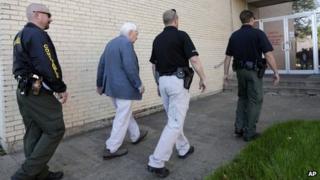 Law enforcement officials in Texas are on high alert two days after a county prosecutor and his wife were found slain in their home.
Mike McLelland, 63, was the third US justice official killed this year.
Police escorted employees into the courthouse on Monday and a prosecutor in one of the largest counties in Texas has accepted a 24-hour security detail.
Officials are investigating whether the murders, which include the killing of McLelland's deputy, are linked.
No arrests have been made in connection with the death of Assistant District Attorney Mark Hasse on 31 January.
But police were reportedly investigating a link between his death and the 19 March killing of Colorado prisons chief Tom Clements.
White supremacist group
McLelland and his wife Cynthia were found shot to death in their home on Saturday.
Officials have revealed little about the homicide investigation, but said the FBI and the Texas Rangers were assisting.
"It was a shock with Mark Hasse, and now you can just imagine the double shock," Kaufman Police Chief Chris Aulbaugh told the Dallas Morning News.
"Until we know what happened, I really can't confirm that it's related, but you always have to assume until it's proven otherwise.''
The lead suspect in Clements's shooting, Evan Spencer Ebel, died in a shootout with police in Decatur, around 135km (85 miles) from Kaufman, on 21 March.
Ebel, 28, was a former Colorado prison inmate and was linked to a white supremacist prison gang called the 211 Crew.
Hasse was killed the same day the justice department revealed the Kaufman County district attorney's office was pursuing a racketeering case against another white supremacist group, the Aryan Brotherhood in Texas.
The indictment, unsealed in November, accused the organisation of killings and arson.
Prosecutors also said the group had used "extreme violence and threats of violence to maintain internal discipline and retaliate against those believed to be co-operating with law enforcement".
And in December, the Texas Department of Public Safety warned it had information to suggest the Aryan Brotherhood was "actively planning retaliation against law enforcement officials" who brought charges against gang members, including its leaders.
After Hasse's killing, McLelland vowed to hunt down the "scum" responsible.
"We're going to pull you out of whatever hole you're in," the district attorney warned the perpetrators at a news conference.
McLelland previously had a 23-year career in the Army, and participated in Operation Desert Storm. He had five children, including a son in the Dallas Police Department.
'State of shock'
He was said to have carried a gun at all times and was extremely cautious when opening the front door of his house, in the town of Forney just outside Dallas.
One neighbour said that after Hasse's death, a sheriff's official kept watch outside McLelland's home for about a month.
In Harris County, Texas, which includes Houston, District Attorney Mike Anderson said he had accepted the county sheriff's offer of a 24-hour security detail for him and his family, and would take precautions at his office, the largest of its kind in Texas.
"I think district attorneys across Texas are still in a state of shock," Mr Anderson said on Sunday.