NRA calls for armed guards in US schools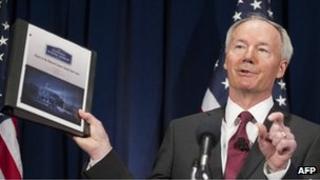 US schools should train and arm staff members and appoint an armed guard to respond to shootings, a powerful US gun-rights group has said.
In a report commissioned in response to a December school massacre, the National Rifle Association (NRA) said armed guards would make schools safer.
It advised schools to use its online assessment tools to improve security.
A national teachers' union called the report a "cruel hoax" designed to sell more guns and ammunition.
The NRA study comes amid a national debate on gun control after 26 people, including 20 children, were killed in a primary school shooting in Connecticut in December.
"The presence of armed security personnel in a school adds a layer of security and diminishes the response time that is beneficial to the overall security," said Asa Hutchinson, a former Republican congressman who led the NRA task force that developed the report.
'Assisting gun makers'
The study, which Mr Hutchinson said cost more than $1m (£660,000), said the NRA had the "nationally recognised expertise to develop and implement the stringent training courses" that armed security officers would need.
Among the recommendations in the 225-page study were better co-ordination with law enforcement agencies and online security assessments for schools.
The recommendations were criticised by the American Federation of Teachers, which represents 1.5 million teachers.
"Today's NRA proposal is a cruel hoax that will fail to keep our children and schools safe," union President Randi Weingarten said, adding the proposals were "designed to assist gun manufacturers" to sell more weapons and ammunition to Americans.
Since the December massacre at Sandy Hook Elementary School in Newtown, Connecticut, the states of Colorado and New York have enacted strict gun control measures, while Connecticut is poised to do so this week.
Federal gun control legislation, meanwhile, has stalled in Congress amid strong opposition from the NRA and its allies in the US Senate. The chamber will begin debating legislation next week.
On Wednesday, President Barack Obama is due to travel to Denver, Colorado to continue his push for new gun control measures including an assault weapons ban, background checks on all prospective gun purchasers, and a ban on high-capacity ammunition magazines.