Virginia 'serial arsonists' suspected of 77 blazes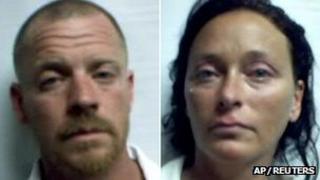 A former volunteer fireman and his girlfriend are due in court accused of scores of arson attacks on the coast of the state of Virginia, police say.
Charles Smith, 38, and Tonya Bundick, 40, were arrested on Tuesday morning, after a vacant house was set on fire.
A police spokeswoman said each of the pair face one count of arson and one count of conspiracy over Monday's blaze, but more charges would follow.
All the fires burned empty structures. No injuries have been reported.
The couple are accused of setting most of the 77 fires that have been set on the Eastern Shore since November.
They are being held in Accomack County jail without bond, ahead of an expected court appearance on Wednesday.
"This is really just the beginning of the end," police spokeswoman Corrine Geller told the Associated Press.
According to court records, police watched as a person was dropped off, set the fire, and picked up again before midnight on Monday.
Authorities tracked down the minivan and Ms Bundick was driving, say the documents.
State police have spent tens of thousands of hours investigating the fires since December.
The blazes were always set at night - sometimes at several locations in one night - and it was believed at least two people were working together.
About 800 potential targets were reportedly identified early in the investigation, and authorities received some 1,200 tips from the public.
In the town of Parksley, where the couple lived together, the suspects' neighbours expressed shock at news of the charges.