NYC nanny Yoselyn Ortega found fit for murder trial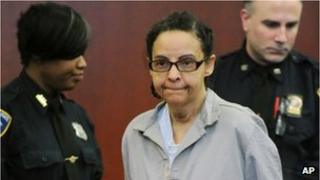 A New York nanny accused of stabbing to death two young children in her care is fit to stand trial, a judge has ruled.
A court-ordered psychiatric examination found Yoselyn Ortega capable of assisting in her own defence.
In October, police found Ms Ortega, 50, in the bathroom of her employers' flat with the bodies of Lucia Krim, six, and her brother Leo, two, in the bathtub.
Ms Ortega, said to have been close to her employers, was bleeding from apparently self-inflicted stab wounds.
The children's mother, Marina Krim, found them in their flat on the Upper West Side of New York's Manhattan borough after picking up her third child from a swimming lesson.
The children's father, Kevin Krim, a CNBC television executive, was away on a business trip.
'Loved the children'
On Friday, Ms Ortega appeared in court wearing a beige prison suit, alongside a Spanish interpreter.
She is being held without bail at the prison ward for psychiatric patients at Elmhurst Hospital Center in the borough of Queens.
Ms Ortega has pleaded not guilty to murder charges and her lawyer is challenging the results of the mental health assessment.
The nanny's sister has said Ms Ortega loved the children she looked after and had never been known as a violent woman.
Ms Ortega's next court hearing is scheduled for 6 May.