Thomas Guolee held in Tom Clements killing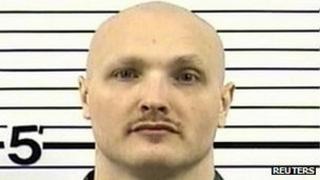 A second alleged white supremacist gang member sought for questioning in the death of Colorado's prisons chief has been arrested, police say.
Thomas Guolee, 31, is not accused of killing Tom Clements but police believe he was in contact with the suspect, Evan Ebel, before the murder.
Guolee's associate James Lohr was arrested last week after a short chase.
Ebel absconded from parole, allegedly killed Clements, then died in a shootout with Texas police days later.
He is also believed to have shot dead a pizza delivery man two days before Clements.
'Persons of interest'
Guolee was taken into custody in Colorado Springs on Thursday for violating his parole, the Associated Press reported. He is being held without bond.
Last week police said Guolee and Lohr were "persons of interest" in Clements's death. Both had outstanding warrants unrelated to the investigation and were described as armed and dangerous.
Lohr was previously arrested on multiple charges, including reckless driving and breaking bail conditions.
Clements, 58, was shot dead on 19 March at the front door of his home near the city of Colorado Springs.
His death was the second in a series of three killings of US justice officials, including a Texas prosecutor and his deputy, just weeks apart.
The murders this year of Kaufman County District Attorney Mike McLelland and his wife and assistant district attorney Mark Hasse remain unsolved.
Colorado authorities have said Ebel appeared a model parolee for more than a month after his 28 January release from prison, where he had been held since 2005 for robbery, assault and car jacking.
But on the afternoon of 14 March, he apparently shed a monitoring bracelet and fled.