Texas judge's wife 'implicates him' in triple murder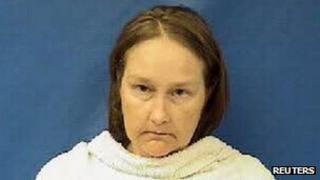 A former Texas justice of the peace has been implicated by his wife in the killings of two law officials and a spouse, authorities say.
Eric Williams shot district attorney Mike McLelland, his wife Cynthia and assistant prosecutor Mark Hasse, his wife said in a police affidavit.
Mr Williams was prosecuted by both Texas law officials last year for theft.
His wife, Kim Williams, was arrested on Wednesday and charged with murder.
During a police interview, she detailed her role in the shooting deaths, according to the affidavit, although it is not clear what was her alleged role.
Mrs Williams - who is being held on $10m (£6.5m) bond at Kaufman County Jail - allegedly gave details of the murders that had not been made public.
The McLellands were found shot to death in their home in late March, weeks after Hasse was murdered.
After being sentenced to probation for stealing three computer monitors, Eric Williams lost his elected position as justice of the peace, largely an administrative role, and his law licence.
He has not been charged in the killings, although he remains in custody following his arrest on Saturday for allegedly making "terroristic threats".
The affidavit says he sent an email a day after the McLellands' bodies were discovered, suggesting there would be another attack unless officials responded to various demands.
A police official told the Associated Press news agency that ballistics experts were testing at least 20 weapons found in a storage locker under Eric Williams' name at a facility near Dallas.
Kaufman County Sheriff's sergeant Matt Woodall said he had learned that Hasse and McLelland both believed Mr Williams blamed them for the loss of his job, according to the affidavit.
They both carried handguns after the trial because they thought he was "a threat to their personal safety".
Mr Williams has said that after the McLellands' deaths and after Hasse was gunned down on 31 January near the county courthouse, he submitted to gunshot residue tests and turned over his mobile phone.
A state appeals court agreed to hear an appeal in his theft case a day before the McLellands were found dead.
The deaths of Mike and Cynthia McLelland were the third such deadly attack on US law officials in a matter of weeks, including Hasse and Colorado's prisons chief Tom Clements.
The suspect in the death of Clements, Evan Ebel, was killed in a shoot-out with Texas police. Two alleged prison associates of Ebel are in police custody.