Texas blast: Eyewitness accounts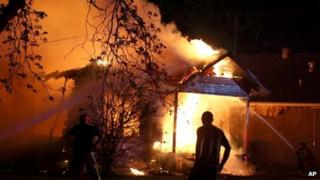 Dozens of people are injured and between five to 15 people are thought to be dead after a large explosion at a fertiliser plant near Waco in the US state of Texas.
The West Fertilizer plant and many surrounding homes and buildings have been destroyed in the blast.
Some people are thought still to be trapped in buildings and a number of firefighters are reported missing.
Local residents at the scene give their accounts of the blast.
William Snider, Tours resident
"I'm the local plumber, I was just in the neighbourhood an hour before working on a water heater.
I stopped to have supper at the diner as I was heading home, it was about ten to eight.
We were expecting some rain to come in and I heard a clap of thunder, or what I thought was thunder, and shortly after that there's water that hit my windshield.
I live five miles east of town in Tours and what that water was - the firefighters were fighting the fire and it blew up and it blew that fire water four miles.
I can see the glow from my house. It's the worst thing to happen to West ever. Toxic fumes, it's like a haze.
There's several helicopters lifting people out and several helicopters with big lights assisting the firefighters and the rescue teams and it's like a war zone.
My plumber's helper lives across the street, a block away, his house burnt down. His parents were injured; they got cuts and bruises from broken glass."
Jody Claridy, eyewitness
"All of a sudden there was just this loud boom. It made the door fly open, it was a glass door, and it actually knocked us out of our seat.
As soon as we recovered our senses, we noticed that it was over towards the nursing home that it had happened.
My sister-in-law had taken off to go to the nursing home because she has a relative there and we took off after her and as we did we saw people coming out of this cloud of debris and black smoke.
They were holding their heads and they were bleeding, people with limbs that were broken and women holding their babies.
We grabbed some people who had come out of the nursing home - the nursing home actually collapsed - we got them into the car and got them to safety.
It was just like a warzone. We saw people jumping into the back of moving vehicles so that they could get away to safety.
We saw glass blown out of windows four, five blocks out from the blast site.
Sides of buildings were just gone.
Anything close to the blast site was just completely demolished, burning or destroyed."
Erick Perez, eyewitness (AP)
"I was about 200ft [60.9 m] from the explosion.
We were playing basketball and then they told us to move out, so we moved out to the school and we're sitting there watching the fire, and obviously a big old explosion happened.
And then we hit the deck and ran out of there as fast as we could.
It was a giant force of pressure just pushing me back. And there was shrapnel flying everywhere from the explosion.
I'm still shaken up. I haven't stopped shaking since the whole thing happened. It's probably the worst thing I've ever seen in my life."
William Burch, nearby resident (AP)
"We were at the house and we felt it rock. We were about four miles (6.4 km) away so when we saw that or felt that, I went running outside.
I looked up and saw the cloud of smoke, and told everyone 'we've got to go'. We ended up getting over to the retirement home.
When we got to the retirement home, it was completely chaotic.
They hadn't even responded over there yet... so my wife being a retired nurse from the Air Force, went into one wing and I went into the other wing.
When I got in there, there were some people that were in wheelchairs and we had others that were just trapped in the rooms.
They had sheet rock that was on top of them. You had to remove that. The halls had debris in it.
The ceilings were down even in the halls, lights, there was a water leak, so you were standing in the water.
Wires were hanging down. We evacuated the one wing as soon as I could get them out."