Boston bombings: Timeline of manhunt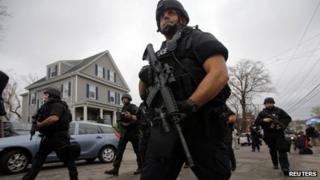 Police have captured the remaining suspect in the Boston Marathon bombings after a manhunt. Here is how events unfolded in the tense search for Dzhokhar Tsarnaev, who remained at large for more than a day.
Thursday 18 April
17:10 local time (21:10 GMT) Police release CCTV images of two suspects they want to question following Monday's bombings near the finish line of the Boston Marathon which killed three people. "Suspect no. 1" - wearing a dark baseball cap - is later identified as Tamerlan Tsarnaev, 26. "Suspect no. 2" - wearing a white baseball cap - is later identified as his younger brother Dzhokhar, 19.
After 22:30 A major police operation gets under way at Watertown near Boston after a police officer is fatally shot at the Massachusetts Institute of Technology (MIT).
It later emerges the brothers hijacked a car and held its owner for half an hour before releasing him at a petrol station. In a car chase with police, the suspects throw explosives and exchange gunfire.
Tamerlan Tsarnaev is hit during the shootout, taken into custody and later pronounced dead. Dzhokhar escapes on foot.
Friday 19 April
Before 01:00 FBI agents descend on Watertown in a huge manhunt for Dzhokhar Tsarnaev.
03:00 Residents are told to stay indoors as police search house-to-house.
05:30 Public transport systems are suspended.
06:00 Heavily armed state police begin multiple sweeps of streets in Watertown.
08:00 Stay-indoors order extended to entire city of Boston. Search continues throughout the day.
18:00 Stay-indoors order lifted and public transport reopens.
19:00 Gunfire breaks out in Watertown and police converge on house on Franklin Street. It later emerges that the resident exited his home after the lockdown was lifted and noticed bloodstains near his boat. He lifted the tarp covering the boat and found the suspect in the stern.
A crowd near the scene cheer as Dzhokhar Tsarnaev is led away by police.
20:45 Police announce the capture of the suspect and he is being treated at a Massachusetts hospital for gunshot wounds.
22:00 President Barack Obama praises the law-enforcement teams for their work. He adds that many questions remain outstanding about the suspects, including whether they had help from others, and urges the public not to rush to judgement about the suspects' motivations.