Boston bombings: Suspects' Chechen connections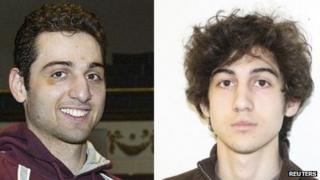 We examine the background of the two brothers suspected of involvement in the bombing of the Boston Marathon.
What is the Chechen connection?
The two brothers suspected of the twin bombing of the Boston Marathon, Tamerlan and Dzhokhar Tsarnaev, are ethnic Chechens from the troubled Caucasus region of southern Russia.
Why is so much being made of that fact?
Chechnya, a predominantly Muslim region located on the northern slopes of the Caucasus mountain range, is one of 21 republics that are part of the Russian Federation. When the Soviet Union began to collapse in 1991 it tried to break away from Russia by declaring independence.
Years of fighting with Russian forces ensued, eventually driving the rebels underground. Chechen rebels staged increasingly bloody suicide bombings and hostage-taking raids around Russia.
While the situation in Chechnya has improved in recent years, sporadic attacks continue. Moscow and Washington say the rebels have links to Islamic terror groups such as al-Qaeda and have fought Western forces in Afghanistan and elsewhere.
But the brothers are said to have come to the US from Dagestan, not Chechnya
The Tsarnaevs are thought to have arrived to Dagestan as refugees in the late 1990s. They had previously been living in Kyrgyzstan. Both brothers attended school in Dagestan for a short time before the family moved to the US.
Another Russian republic, Dagestan is Chechnya's eastern neighbour in the turbulent Caucasus. Chechen separatists openly led armed operations in this ethnically diverse region in the 1990s. The republic still sees frequent attacks on security forces and assassinations.
The brothers arrived in the US as children and had lived there for at least a decade, hadn't they?
The family is believed to have arrived in the US in 2002, though the brothers' father is now back in Dagestan.
According to a 2010 photo slideshow from a student magazine featuring Tamerlan Tsarnaev, the 26-year-old amateur boxer had stopped studying at Bunker Hill Community College in Boston to train for a big competition.
He told the photographer he hoped to win enough fights to be selected for the US Olympic team and become a naturalised American. Tamerlan also said that unless Chechnya became independent, he would rather compete for the US than for Russia.
He is quoted as saying: "I don't have a single American friend. I don't understand them." But in another local news article from 2004 he was quoted as saying "I like the USA".
His younger brother was described as well integrated into the local community.
"He was a very studious person. He was really popular. He wrestled. People loved him," Rose Schutzberg - a high-school friend - was quoted as saying by Associated Press.
Did they retain any connections to Chechnya?
Dzhokhar maintained a page on the Russian social networking site VKontakte, where he was a member of Chechen groups. It identifies "Islam" as his world view, and "career and money" as his personal goals. One university friend said he spent a lot of his time with other Russian students.
Tamerlan is said to have travelled to Russia for several months last year and the trip reportedly included a brief return to Dagestan.
Russian news agency RIA Novosti says "extremist material" was on his YouTube account, including an album titled "Terrorist" and conversations about the religion of Fayz Mohammad, known for his "radical utterances".
There was also a video on his page of the Chechen folk singer Timur Mutsurayev, some of whose songs have been put on a list of extremist material by the Russian justice ministry, the news agency reports.
The BBC has been unable to confirm the information about material on Tamerlan's YouTube page.
Were they known to intelligence services?
The FBI interviewed Tamerlan Tsarnaev in 2011 after a request from a foreign government, US law enforcements officials have confirmed. But agents closed the case after finding no cause for concern.
In an interview on Russian television, the mother of the two suspects said the FBI had been in contact with her son for several years. It is not known which country made the request, but the BBC's Paul Adams in Washington says it is likely to have come from Russia.