Texas fertiliser plant blast: Evacuees begin to return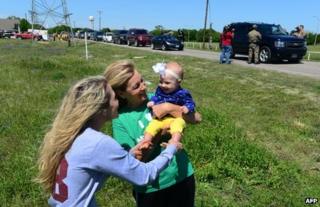 Authorities in Texas say it is safe for some evacuees to begin returning to homes after a huge blast at a fertiliser plant that killed 14 people.
A first group of residents is due to enter the town of West, where homes were destroyed by the massive explosion and fireball on Wednesday.
Police have been registering their vehicles outside the town near Waco.
Some 60 people reported missing after the event are said to have been found safe in local hotels or with friends.
"There may end up being one or two more missing but I can't even say that," McLennan County Judge Scott Felton said, quoted by AFP news agency.
The blast, which is thought to have been accidental, produced a tremor similar to a small earthquake, and 200 people were also injured.
Aerial footage of the site shows homes flattened and a block of flats shattered, with a nursing home and several schools also badly damaged.
'Safe, safe and safe'
Reports of small fires from leaking agricultural chemical tanks at the site on Friday had prompted the authorities to delay allowing evacuees back.
However, officials insisted that the fires had been contained and the town was now safe.
"It is safe, safe and safe,'' City Council member Steve Vanek told a news conference.
"Please be patient and co-operative. We are going through a tough time here and we are working diligently to get everyone back into their homes."
A line of vehicles formed outside the town on Saturday as evacuees waiting to be given police passes to enter the site.
Many were hoping to find key documents such as insurance papers and family records to help with recovery, AP news agency reports.
Others simply hoped to reclaim any belongings that might be buried under splintered homes.
Ron Price, 53, was anxious to see if he could salvage anything from his son's house before checking on his mother, who is recovering in hospital after being trapped in a ceiling collapse at the nearby nursing home.
"My niece dragged her out of the window," he told AFP.
"She got hit on the head when the ceiling fell in and she got a pretty good bruise across the back where it pinned her."
Dorothy Sulak, 71, who lost her home and her job as a secretary at the plant when the blast went off, was among those hoping she could get back in.
She fled so fast she only had time to leave with the clothes on her back.
"Yes, it's just stuff - but it's my stuff,'' she told AP.