CBS Twitter accounts hacked by 'pro-Damascus group'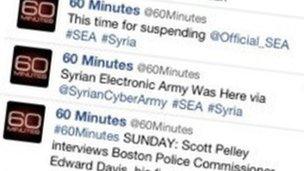 The Twitter accounts for two CBS news programmes in the US have been suspended after being hacked.
Fake messages appearing on the @60Minutes account criticised US support for "terrorist" rebels in Syria and others accused Barack Obama of trying to "take away your guns".
A group calling itself the Syrian Electronic Army claimed to have been responsible for hijacking the accounts.
The @CBSDenver account was also taken over, said news director Tim Wieland.
The SEA group has previously put out messages in support of Syrian President Bashar al-Assad. It appeared to behind the takeover of several BBC Twitter accounts last month and some of NPR's accounts last week.
A CBS spokeswoman confirmed that the accounts had been compromised. CBS said it was working with Twitter to "resolve the issue".
The fake messages that appeared on the @60Minutes account reportedly included:
"The US government is hiding the real culprit of the Boston bombing"
"The US government is sponsoring a coup in Venezuela and a terrorist war in Syria"
"Your duty is to protect your nation from the parasites that have taken your government"
"Obama wants to destroy the Syrian and American people. We must stop this beast"
Other messages claimed: "Syrian Electronic Army Was Here via @SyrianCyberArmy" and suggested the action was in response to the suspension of the @Official_SEA account.
Tweets sent out on the @48Hours account reportedly included: "General Dempsey calls for #Obama's arrest under new anti-terror laws #48hours".
Gen Martin Dempsey is chairman of the US Joint Chiefs of Staff.
Twitter has not commented on the latest account hackings.