Stephen Schwarzman unveils $300m China scholarship fund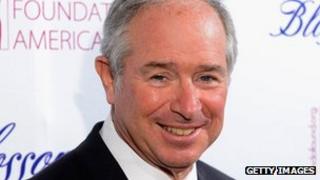 US private-equity magnate Stephen Schwarzman has launched a $300m (£200m) scholarship programme to send 200 foreign post-graduate students to study in China each year.
Mr Schwarzman is donating $100m of his personal $6.5bn fortune to the fund, and is raising a further $200m.
Selected students will spend a year at Tsinghua University in Beijing.
Mr Schwarzman said he hoped to foster "a win-win relationship of mutual respect" between China and the West.
The Schwarzman Scholars programme aims to rival the 111-year-old Rhodes Scholarship programme which enables foreign students to study at the UK's University of Oxford.
It is being backed by major, mainly Western firms, many with interests in China.
'Imbalances and tensions'
"China's economy is growing at three times the rate of the West, and if that growth continues, China will become the largest economy in the world within the next couple of decades," Mr Schwarzman said in a statement ahead of the funds launch on Sunday.
"Disproportionate levels of growth often create global imbalances and tensions, which will need to be addressed in the decades ahead... For the West, this means developing a far richer and more nuanced understanding of China's social, political and economic context.
"A win-win relationship of mutual respect between the West and China is vital, benefiting Asia and the rest of the world, and enhancing economic ties that could lead to a new era of mutual prosperity."
Mr Schwarzman - who founded the private equity firm Blackstone - has so far raised $100m from backers including BP, Boeing, Caterpillar, Bank of America and Credit Suisse, as well as "numerous" anonymous donors.
He is hoping to raise the remaining $100m by the end of this year to complete the fund.
The programme aims to send 200 students a year to take a year-long master's degree at Tsinghua - in subjects including public policy, international relations, economics and business, and engineering - from 2016.
They will come from the US, China, other parts of Asia, Europe and Latin America.
Among those on the fund's advisory board are former US Secretaries of State Henry Kissinger and Condoleezza Rice, former UK Prime Minister Tony Blair, former French President Nicolas Sarkozy and American cellist Yo-Yo Ma.