Hollywood actress Reese Witherspoon 'arrested'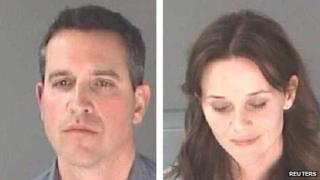 Hollywood actress Reese Witherspoon was arrested for disorderly conduct after police stopped her husband on suspicion of drink driving, US media report.
The 37-year-old is reported to have quarrelled with police after their car was pulled over in the early hours of Friday in Atlanta, Georgia.
She is alleged to have told officers: "Do you know my name?"
According to the Associated Press, she released a statement on Sunday apologising for her behaviour.
"I clearly had one drink too many and I am deeply embarrassed about the things I said," she is quoted as saying, adding that: "It was definitely a scary situation and I was frightened for my husband, but that is no excuse."
Court hearing
Police officers stopped Ms Witherspoon and her talent agent husband James Toth after their car was spotted swerving across its lane, the online Hollywood magazine Variety reports.
Citing the police report, Variety said officers breathalysed Mr Toth - the driver - whom they described as dishevelled and smelling of alcohol.
During the test, Ms Witherspoon refused to heed the officer's request to stay in the car, saying she was a "US citizen" and had a right to "stand on American ground", the report is quoted as saying.
"Do you know my name?" Ms Witherspoon is then reported to have asked the officer. "You're about to find out who I am" and "You're about to be on national news", she is then alleged to have said.
The couple were taken into custody and later released on bail. A court date has been set for Monday.
Ms Witherspoon is reported to be in Atlanta filming her new movie.
She appeared on the red carpet in New York on Sunday for the premiere of her film Mud but did not speak to reporters.