Canada train plot: Canada Muslims reflect after arrests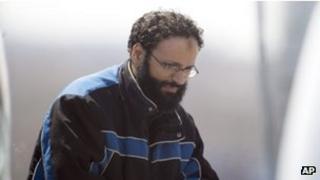 After the chaos and drama surrounding the Boston bombings, an altogether more low-key story is unfolding here in Toronto.
Chiheb Esseghaier, 30, a Tunisian from Montreal, and Raed Jaser, 35, a Palestinian from Toronto, are charged with conspiring to carry out an attack and murder people in association with a terrorist group. They are accused of plotting to derail a passenger train.
To be sure, the two arrested men never came close to carrying out their alleged plot. No crime scene covers entire city blocks, no convoys of heavily armed police race through the streets of Toronto, and no media villages are camped out on street corners.
If there was ever "do-not-cross" tape barring the way to Raed Jaser's modest suburban home, it had already gone by Tuesday afternoon. All was quiet there and at the nearby mosque where he sometimes prayed.
Apart from the confusion over where Chiheb Esseghaier should first appear in court - which resulted in several flights between Montreal and Toronto - "Operation Smooth", as the Royal Canadian Mounted Police are calling it, seems aptly named.
But if Canada has been spared a national tragedy, its large Muslim communities are left wondering if they missed something.
'Fantastic inroads'
Mohammed Robert Heft, a convert who has worked closely with the authorities in recent years, said Raed Jaser's father first expressed concerns about his son's religious views several years ago, but that nothing came of it.
Mr Heft, who runs the Paradise Forever Islamic Centre in Toronto, said he never met the younger Jaser. The next time he heard his name was when the authorities approached him 10 days ago with word of their ongoing investigation.
"So I realised something was up," Mr Heft said.
"We have idiots in our community, like everyone does."
Mr Heft called the close working relationship between community leaders and the police, which involves soccer matches and social gatherings at which mutual concerns are discussed, "a model for the international community".
"In the last few years, they're making fantastic inroads in showing our community that they're not out to get us, that they're out to work with us and not demonise us," he said.
'Co-operating for justice'
Mr Heft was among local Muslim leaders present on Monday when officers from the Royal Canadian Mounted Police (RCMP) outlined the case against Mr Jaser and Mr Esseghaier. He said he and other leaders will call the police if they have concerns about what they're seeing and hearing in the community.
"Co-operating for justice is part of my religion," he said.
But even for someone with a trained eye, like Mr Heft, the signs are not always easy to spot.
Mr Esseghaier and Mr Jaser both seem to have behaved in ways that rang alarm bells with family members and co-workers, but Mr Heft said extreme radicalisation tends to be a private thing.
"Anywhere the internet is, there's a problem with radicalisation," he said. "Generally speaking, it's happening with Mufti Yahoo and Sheikh Google."
One of many questions thrown up by this case is how two people with such different backgrounds allegedly came together in a plot to derail a passenger train.
Mr Esseghaier, a Tunisian who arrived in Canada in 2008 and was pursuing a doctorate at a prestigious scientific research institute in Montreal, spent much of his time in a bionanotechnology lab. Among his recent papers was one devoted to the study of prostate-specific antigen detection.
Mr Jaser appears to have lived a very different life. He was born into a Palestinian family in the United Arab Emirates and emigrated to Canada 20 years ago. He briefly ran a limousine service and more recently had been working at a moving and storage company. For 10 months last year, he was a school bus driver.
Along the way, Mr Jaser had several brushes with the law.
In 2001, he was convicted of threatening death, but was later cleared and pardoned. Five years earlier, a fraud case against him was stayed.
The RCMP has yet to say anything about how the two men met, beyond the suggestion that they received guidance and inspiration from an unnamed al-Qaeda figure in Iran - something Tehran vigorously denies.
At the Islamic Foundation of Toronto, one of the largest mosques in Canada, Shaykh Yusuf Badat says his congregation was shocked to hear of the alleged plot and relieved that it had been foiled.
"When there's a threat to Canada, it's a threat to the Muslim community as well," he told the BBC.
Mr Badat said there was always concern about the impact of a story like this on public perceptions of the Muslim community, but said Canadians would not be jumping to conclusions.
"We share the same concerns that Canadians share," he said. "We want the prosperity of our country and the safety of our country."