Luka Magnotta trial to begin September 2014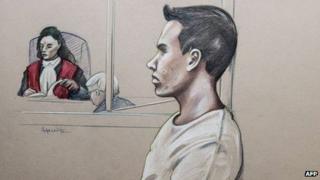 The trial of a Canadian man accused of killing and dismembering his Chinese lover and posting his body parts to political figures will begin next year.
Luka Magnotta, 30, has pleaded not guilty to murder and other charges in the May 2012 killing of Jun Lin.
The trial is set to begin after 15 September 2014, with Quebec's prosecution service citing a crowded court calendar.
The trial is expected to last between six and eight weeks..
A Quebec judge ruled two weeks ago prosecutors had presented enough evidence to try Mr Magnotta for first-degree murder, a charge that requires the crime have been planned and intentional.
Mr Magnotta has pleaded not guilty to murder, indignities to a body and publishing obscene materials.
Lin, a 33-year-old Chinese national who was studying at Concordia University, was killed last May.
Some of his body parts were posted to the headquarters of Canada's Conservative and Liberal Parties, as well as to two schools in Vancouver. Lin's head was found a month later in a Montreal park.
Mr Magnotta, a gay pornography actor, is also accused of eating parts of the corpse and of publishing a video of the crime on the internet.
He became the subject of an international manhunt shortly after the murder occurred.