Tsarnaev widow's family home searched by FBI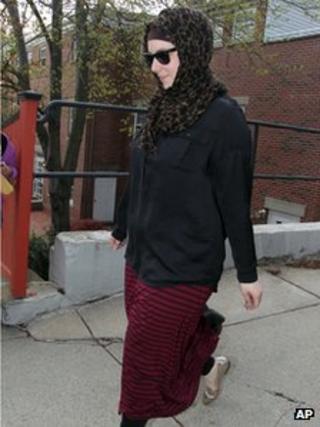 The FBI removed evidence including DNA samples from the house where the widow of suspected Boston Marathon bomber Tamerlan Tsarnaev has been living.
Katherine Russell, 24, has been staying at her parents' house in Rhode Island since her husband's death.
The search comes amid US media reports that investigators are analysing female DNA found on a piece of the pressure-cooker bombs used in the attacks.
Three people were killed and more than 260 injured in the 15 April blasts.
Meanwhile it was announced that high-profile death penalty lawyer Judy Clarke has joined the defence of Dzhokhar Tsarnaev, Tamerlan Tsarnaev's brother and suspected co-conspirator.
Ms Clarke is nationally known for her work on high-profile cases.
Most recently she worked on the defence of Jared Loughner, who killed six and severely injured former Representative Gabrielle Giffords, and has also represented "Unabomber" Ted Kaczynski and Atlanta Olympics bomber Eric Rudolph during sentencing.
The younger Tsarnaev has been charged with using a weapon of mass destruction in the dual explosions near the finish line of the Boston Marathon.
Bomb 'evidence'
On Monday, FBI agents at the Russell home retrieved DNA samples, an official told the Reuters news agency.
Investigators are looking for any evidence that would further tie the Tsarnaev brothers to the bombing and spent hours in the family house in North Kingston, Rhode Island.
Officers also took a sample of Ms Russell's DNA, the New York Times reports.
Ms Russell's lawyer said she was doing everything she could to assist with the investigation. She has lived at her parents' house since Tamerlan Tsarnaev was killed several days after the bombing.
The couple lived with their young daughter in an apartment in Cambridge, Massachusetts. Police say they have found bomb material at the residence.
Ms Russell's lawyers say she did not know much about her husband's activities because she spent most of her time outside the home working as a health aide while he watched their child.
Claiming Tamerlan
Tamerlan Tsarnaev was killed in a gun battle with police on the night of Thursday 18 April but the Massachusetts medical examiner will not release his cause of death until someone claims his body.
Ms Russell would be among those permitted to claim the body, a spokesman for the medical examiner said.
The brothers' parents said on Sunday they had abandoned plans to come to the US from Russia to claim Tamerlan's body and visit Dzhokhar.
Also on Monday, President Barack Obama and Russian President Vladimir Putin discussed co-ordination on terrorism cases in the wake of the Boston bombings.
Mr Obama expressed his "appreciation" for Russia's close co-operation after the attack, the White House said in a statement.