Kentucky boy, 5, shot dead sister, 2, with child gun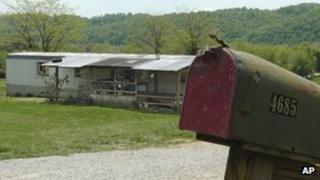 A five-year-old boy who shot dead his two-year-old sister in the US state of Kentucky used a gun marketed for children, authorities have said.
Kristian Sparks was given the .22-calibre rifle, called a Crickett, as a gift.
The Cumberland County coroner said a bullet had been left in the gun before Tuesday's shooting.
Caroline Sparks' death has been ruled accidental, and it is not clear whether any charges will be filed.
'Normal way of life'
She was shot in the chest as Kristian's mother went outside to feed their dogs, authorities said. The gun was apparently stored in a corner of the family's mobile home.
Officials and residents in the rural Kentucky county said it was common for children to begin shooting guns at a young age.
"It's a normal way of life, and it's not just rural Kentucky, it's rural America - hunting and shooting and sport fishing," said Cumberland County Judge John Phelps.
"There's probably not a household in this county that doesn't have a gun."
Kristian's rifle was manufactured by Keystone Sporting Arms, which has a "kids' corner" on its website featuring images of children at shooting ranges and on bird and deer hunts. The guns are sold in pink, blue and other colours and designs.
'Nurture gun safety'
The 17-year-old company states its mission is to nurture gun safety among young shooters and displays testimonials from parents who say they are grateful to be able to go shooting with their children.
In the past three days at least three young boys have shot their sisters in the US, says Daily Kos writer David Waldman, who tracks accidental shootings.
In addition to the Sparks case, a five-year-old girl was shot and killed by her eight-year-old brother in western Alaska on Tuesday, while a seven-year-old boy shot his sister, nine, in the leg in Auburn, Washington state, on Thursday.
Kentucky state lawmaker Robert Damron, a Democrat, said: "Why single out firearms? Why not talk about all the other things that endanger children, too?"