Two years after a tornado, Joplin struggles to rebuild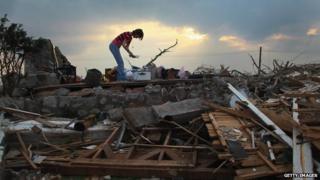 Two years ago, a tornado destroyed the town of Joplin, Missouri. Its long, painful recovery offers lessons for the people of Moore, Oklahoma, who are just beginning to rebuild.
About eight hours after a tornado touched down in Joplin, Missouri, Jerrod Hogan saw two people, a husband and wife, standing in a pharmacy car park near a makeshift medical station.
They said they had driven from Mississippi, more than 350 miles (563km) away.
"When we heard what happened, we loaded up our truck and came here to help," they told Mr Hogan, a 36-year-old surveyor and director of Rebuild Joplin.
The couple were part of an outpouring of assistance after the tornado.
Long and slow
Joplin, a city of 50,000 people, was devastated by the 2011 twister, the deadliest in decades. It killed 161 people and caused more than $2.8bn (£1.7bn) in damage.
More than 8,000 buildings were reduced to rubble, and the rebuilding has been long and slow.
Yet in addition to the physical damage, tornadoes also exact an emotional and psychological toll.
At the same time, disasters attract con artists and hucksters who add to the pain.
Today the schools in Joplin remain under construction. And many families are still waiting for their new homes to be built.
The rebuilding lessons that Mr Hogan has learned are important - both for those in Joplin and also for people in Oklahoma, where a tornado killed 24 people this week and destroyed entire city blocks.
For some in Joplin, part of a region known as Tornado Alley, the storm's devastation was familiar.
Joplin school superintendent CJ Huff, 43, grew up on a farm in McCune, Kansas. When he was 12, a tornado struck.
"I still remember the sound of my dad coming down the stairs, yelling, 'It's coming, it's coming,'" Mr Huff says.
When the tornado hit Joplin, he was more prepared than most. But he has been taken aback at how hard it has been for the city to recover.
Fraud
Not long after the tornado dissipated, Mr Huff and his wife climbed a hill overlooking the city.
"I remember saying, 'There's no way anybody can survive this,'" he said.
Luckily most did. But the aftermath has been rough.
At first Mr Huff and others tried to take care of the basic needs of the children affected by the storm. That took longer than he and the city officials had anticipated.
Several months after helping the families get back on their feet, many of the parents returned and asked for more help.
"At first we couldn't figure out why," says Mr Huff. "Then we realised what was happening. When families lose everything, they also lose their hand-me-downs."
Some of the delays have been caused by administrative problems, such as recent changes in the approval process for bank loans.
In other cases people have been scammed by fraudulent contractors.
Since the tornado struck, 30 of the 70 families whom Mr Hogan and other Rebuild Joplin volunteers have helped back into homes have faced contractor fraud, Mr Hogan says.
Amy Jump, a 34-year-old mother of three, lost her family home in the storm.
Months later, she says, she and her husband wired $54,282 to a contractor, Clark Baxter, in California.
Baxter came to Joplin and helped them start construction on their new home on South Joplin Avenue.
"Nicest guy you ever met," Jump says.
That was the last time she saw him.
'Bruises heal'
Several weeks later she and her husband realised something was wrong.
Missouri Attorney General Chris Koster has filed a lawsuit against Baxter.
Baxter, speaking on the phone from Orange County, California, says he did nothing wrong.
"Somehow it's gotten all twisted around," he says. "I was more or less run out of town."
Regardless of how it is resolved, the case underscores the complexity of the reconstruction process.
Mr Huff, the school administrator, says the hardest part of the recovery is what happens inside.
"The bruises heal - but that mental-health piece is critical," says Mr Huff.
Adults and children are grieving over the loss of their loved ones.
Some people are just angry - that they have lost their homes and that they were ripped off afterwards.
Still Mr Hogan and many others who have worked to rebuild the city believe some good has come from the events.
They believe that most people want to help after disaster strikes - and that their efforts have made a difference.
Hogan understands the impulse of strangers like the Mississippi couple in the parking lot who came to pitch in after the tornado.
"I'm four hours from Moore, Oklahoma," says Hogan. "And I wanted to be there yesterday."