Lois Lerner refuses to testify in IRS investigation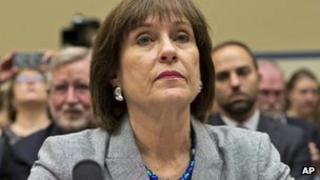 The US tax official who runs the office whose staff targeted conservative groups for extra scrutiny ahead of the 2012 election has refused to testify in a congressional hearing.
Lois Lerner said she had done nothing wrong but invoked her constitutional right not to incriminate herself.
The Internal Revenue Service (IRS) has apologised for the practice but denies its staff had political motivations.
The practice has been widely condemned and the FBI has launched an inquiry.
"I have done nothing wrong," Ms Lerner, the IRS director of exempt organisations, told the House Oversight and Government Reform Committee.
The committee on Tuesday held the third of several planned congressional hearings on the matter.
'No answers'
"I have not broken any laws," she said. "I have not violated any IRS rules or regulations and I have not provided false information to this or any other committee."
Oversight committee chairman Darrell Issa, a Republican, has accused Ms Lerner of providing "false or misleading" information to the IRS about its practices.
But when Mr Issa asked her to reconsider her decision to invoke the Constitution's Fifth Amendment, which protects against self-incrimination, Ms Lerner said, "I will not answer any questions or testify about the subject matter of this committee's meeting."
Ms Lerner, whose office processes applications for tax-exempt status, was excused nine minutes after she began speaking.
Mr Issa said he might consider recalling her if she could be granted immunity.
Even before the matter came to light this month, congressmen had asked tax officials whether conservative groups were being treated unfairly, after lawmakers received complaints from constituents.
But IRS officials denied any targeting was going on.
Two top IRS officials have tendered their resignations over the matter and the FBI has launched a criminal probe.
It has also emerged that White House chief of staff Denis McDonough was aware the US treasury department had launched an inquiry into the matter, but did not inform the president.
Keywords
In 2010-12, the IRS says it was inundated with new applications from groups seeking tax-exempt status, after the US Supreme Court loosened restrictions on political spending by organisations unaffiliated with candidates' campaigns
Under US tax law, "social welfare" groups may apply for tax-exempt status but cannot engage primarily in political activity.
Staff members at an IRS office in Cincinnati, Ohio are understood to have compiled a list that included keywords such as "Tea Party" and "patriot" to select organisations for extra scrutiny from the large number of applications.
The Tea Party is a loosely organised movement of anti-tax conservatives, and in the American political lexicon "patriot" can indicate a conservative orientation.
The US treasury department's inspector general for tax matters said his investigation found no evidence the IRS had acted under political pressure from the White House, and officials have said the practice was an effort to handle the heavy workload.