Missouri rail crash brings down US road bridge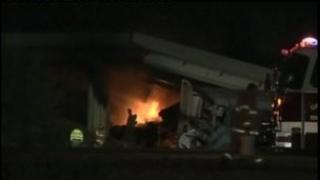 Two goods trains have collided in the US state of Missouri, bringing down a road bridge and leaving seven people injured.
The crash, in Scott County, prompted one of the trains to derail, hitting a pillar propping up Highway M, reports said.
Two cars were on the bridge when it collapsed. Five passengers inside the cars were hurt and taken to hospital.
Two people in one of the goods trains were also injured.
The collision happened at 02:30 (07:30 GMT) near Chaffee in south-east Missouri.
Scott County Sheriff Rick Walter told St Louis TV station KMOV that a Union Pacific train had just gone through an intersection when it ploughed into a Burlington Northern train.
Several freight wagons derailed and as one of the trains hit the bridge, spilt fuel ignited a fire.
None of the injured was said to be in a serious condition.
A week ago, more than 60 people were injured when two commuter trains collided during the rush hour in Connecticut.