New York launches bike share scheme 10 months late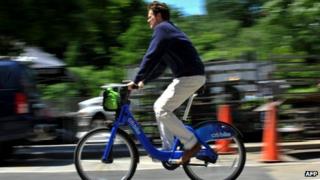 New York City has launched the first phase of its bike-share programme 10 months after it was scheduled to start.
The scheme placed 6,000 bikes at 333 stations in the boroughs of Manhattan and Brooklyn.
It is supposed to grow to 10,000 "Citi bikes" at 600 stations and could become one of the largest of its kind.
Fourteen thousand New Yorkers have already signed up. Similar schemes are already in place in cities like London, Paris, Montreal and Barcelona.
New York City Mayor Michael Bloomberg said the programme was a "big win" for the city.
"We now have an entirely new transportation network without spending any taxpayer money," he said at a news conference on Monday.
The scheme has prompted debate within the city over whether New York's roads could become more dangerous with increased bike traffic moving alongside cars.
Other residents have been reluctant to see parking spots disappear, or say the bike stations look unattractive.
But New York's transport department said it had been warned by aides to London Mayor Boris Johnson that residents would initially complain.
"They said you'll be hated for six months," transport policy director Jon Orcutt told the New York Times. "And then you'll be loved."
London's bike share programme was introduced in 2010.
In New York, the annual fee of $95 (£63) includes unlimited rides of less than 45 minutes each. On 2 June, the city will roll out daily and weekly plans.
The programme was originally to begin in July 2012, but faced some problems, including damage to the city after a major storm, Sandy, struck in October.
New York resident Alex Nash that said despite some teething problems, he planned to use the new service regularly.
"To start with, it was a little bit difficult to put it back," he told Reuters news agency. "I couldn't get a new one. But it's great. I love it."