Alaska Airlines passenger held for 'emergency exit bid'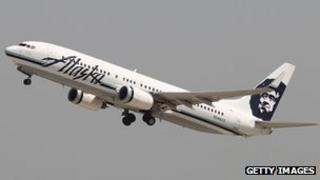 A passenger on a US flight has been arrested for allegedly trying to open an emergency exit, after making "unusual statements," says the FBI.
Alexander Michael Herrera, 23, was arrested on an Alaska Airlines flight from Alaska to Oregon, the FBI said in a statement.
Passengers and crew members restrained Mr Herrera using shoe laces and seat belts, news agency AP reported.
Mr Herrera faces charges of interfering with a flight crew.
The incident occurred on Alaska Airlines flight 132 from Anchorage, Alaska to Portland, Oregon.
Passengers and crew members told police that "the man made unusual statements prior to the incident and then attempted to open the door," the FBI said.
Witness Henry Pignataro told GW-TV that he and another man held down Mr Herrera, while flight attendants brought three sets of shoelaces to bind Mr Herrera's legs, AP said.
Mr Herrera then calmly sat "surrounded by big guys" until the plane landed, Mr Pignataro added.
The suspect, believed to be from Arizona, is being held at the Multnomah County Detention Center, Reuters news agency reported.
He is likely to appear in court in Portland on Tuesday.